10 full scholarships for underprivileged Orang Asli youth
Linton University College in collaboration with social enterprise Projek57 showcased its commitment to providing educational opportunities for deserving students by awarding 10 full scholarships for underprivileged Orang Asli youth.
A signing ceremony of the Memorandum of Understanding (MOU) between Linton University College and Projek57 was held to mark the launch of ROSE (Reaching Out through Successful Education) Project by Linton University College in conjunction with the university's 13th Convocation held at Putrajaya Marriott Hotel on 31 October 2017.
The MoU was signed by Linton University College's Vice-Chancellor, Dr. Kamis Awang while Projek57 was being represented by Projek57 co-founders Syed Sadiq Albar and Collin Swee.
There is no bond attached to the scholarship and recipients are free to pursue any course they wish and after their graduation can work with any employer they wish. This year, recipients will be able to pursue a tertiary education in fields such as business and accounting, IT, engineering, applied and visual Arts, and nursing at Linton University College.
"Our collaboration with Projek57 allows us to reach out to Orang Asli communities to promote the importance of tertiary education attainment and the power of education for transforming these communities to have a better quality of life. We are keen to do our part in developing Orang Asli communities particularly in the state of Negeri Sembilan since Mantin is home to Linton's 160-acre campus," said Dr. Kamis Awang.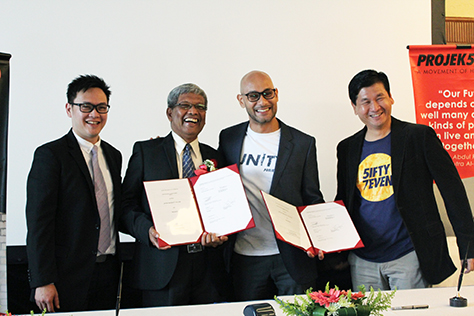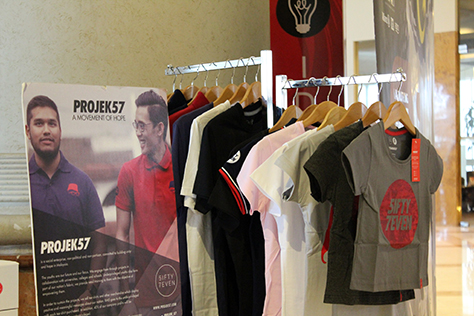 Given the success of their contribution to Projek57 last year, Linton University College decided to follow it through with further contribution of 10 scholarships and RM42,925 for 850 exclusive T-shirts bearing a quote from Malaysia's first prime minister Tunku Abdul Rahman. These T-shirts were distributed to Linton's graduates on the convocation day.
"The ROSE Project is Linton University College's social empowerment initiative. Through this corporate social responsibility project, we aim to seek out underserved students who are keen to embark on a tertiary education. We believe that when all people within a nation are empowered through education, the entire nation prospers," said Dr. Kamis Awang.
Co-founders of Projek57, Syed Sadiq Albar and Collin Swee shared, "Projek57's mission is to encourage Malaysians to become nation-builders and sow the spirit of unity for the future of Malaysia. We are glad to be able to work with Linton University College once again to provide scholarships to our bright young Orang Asli students.
"By empowering them, we hope to create a chain reaction that will eventually see them contribute to the development of their communities and make a better life for themselves and their families."