Miss Grand Kuala Lumpur 2018 finalists selected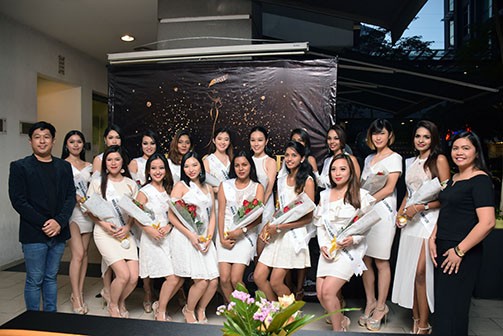 It's finally here! The official line-up for Miss Grand Kuala Lumpur (MGKL) 2018 finalists has been revealed at a welcoming party held at 4Play Seafood restaurant, Publika shopping mall, Kuala Lumpur on 3 Feb 2018.
The 16 contestants from all over the country including Sabah & Sarawak made a grand entrance strutting down the catwalk wearing white dresses in high heels, each of them introduced themselves and were greeted with cheers and applause.
They were presented with sashes and flowers by Miss Grand Malaysia national director Jude Benjamin and MGKL state director Jacqueline Liwanag Malabuyoc.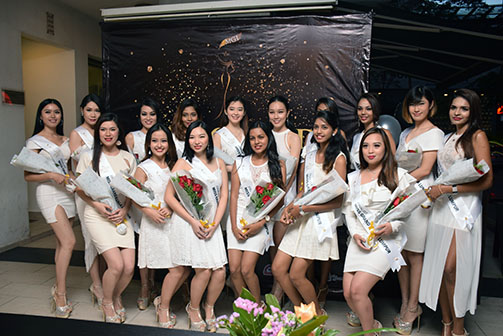 The Top 16 of Miss Grand Kuala Lumpur 2018 who made it after a thorough auditioning and screening process.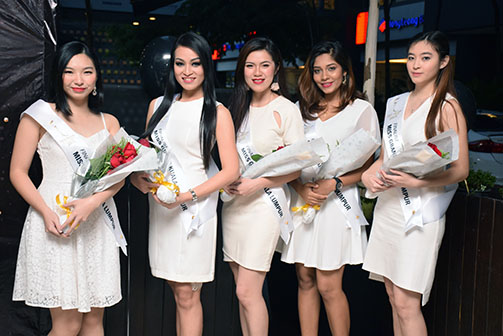 The finalists have taken a step nearer being crowned Miss Grand Kuala Lumpur 2018 at the grand final set to take place 0n 6 April.
Also present at the event were reigning Miss Grand KL 2017 Parveen Sidhu, event sponsors and media.
The girls are undergoing a series of trainings and grooming by industry experts to prepare themselves for the grand final set to take place on 6 April.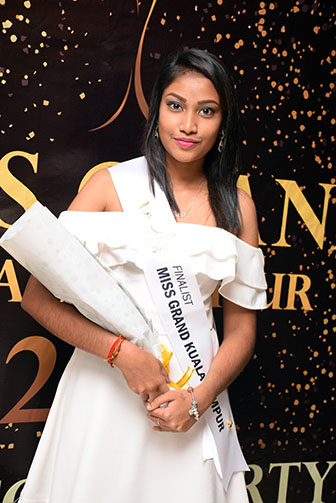 Miss Grand KL 2018 finalist Sivasakti a/p Alexander.
Finalist Sivasakti a/p Alexander, 19, a MSU Diploma in Accounting student is excited about her first experience at the Miss Grand KL 2018 pageant.
"This is my first pageant and I am elated to be selected in my first attempt. I joined the pageant to learn new things and gain valuable experience. Everything is so exciting here and there are lot of opportunities for me to learn and explore. I hope to do well in the pageant," said the 5' 5" (165cm) tall Sivasakti who loves fashion and playing basketball.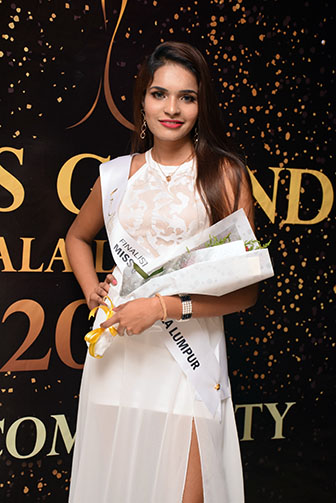 Miss Grand Malaysia 2018 finalist N. Nanthini Nadarajah
Another finalist International Medical University (IMU) first-year medical student N. Nanthini Nadarajah, 21, from Klang, said some of her friends advised her not to join pageant arguing that it could affect her studies.
"I believe being in pageants allowed me to participate in self-discovery and boost my self-confidence. There are responsibilities involved so I need to balance commitments with studies," said Nanthini who was a finalist at Miss India Cultural Malaysia 2017.
The JPA scholarship holder who scored 9A+ in her SPM exam is grateful that she has been given the opportunity to pursue her dedication and passion to become a doctor.
Nanthini stands 5' 7" (171 cm) tall and enjoys hobbies such as reading books and dancing.
Top 16 Miss Grand Kuala Lumpur 2018 Finalists
Audrey Wong, 24, account executive, Penang
N. Nanthini Nadarajah, 21, student, Selangor
Elynn Goh, 25, medical student, Perak
Taanusiya d/o Veerapandian, 17, student/model
Pamela Jalin, 27, customer service exec, Sarawak
Sivasakti a/p A Alexander, 19, student, KL
Pang Jia Hui, 23, student, Subang Jaya
Ginny Choong Siew Yen, 26, marketing exec, KL
Teo Khai Chin, 22, student, Johor
Monica Luting, 24, student, Sabah
Erma Masilla Kotiu, 27, senior operation exec, Sabah
Preethi Lekha Raj a/p Rajendra, 19, student, KL
Juliet Chong, 27, account manager, Selangor
Tamilselvi Anadan, 20, student, N. Sembilan
Kikoline Tiwas, 27, project exec/freelance model, Sarawak
Ashwini Suraze, 20, student, Johor