Young taekwondo stars battle for top honours
The atmosphere was charged with the roar of cheering spectators as young Taekwondo athletes battled for a spot in the Grand Finals of the 13th Nestlé KOKO KRUNCH® Junior Taekwondo Championship 2018.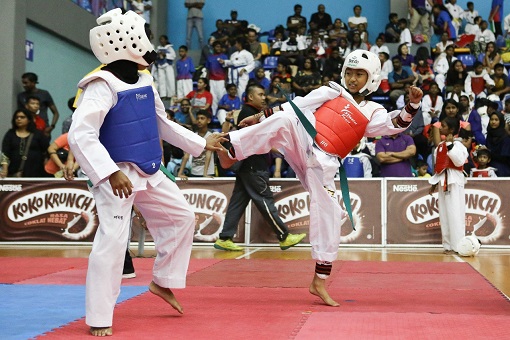 The nationwide competition recently kicked off at Stadium Titiwangsa Kuala Lumpur, with 681 aspiring Taekwondo athletes from 22 Taekwondo Clubs across Selangor, Kuala Lumpur and Putrajaya. The central zone championship saw a participation of 312 girls and 369 boys, with 322 exponents aged 7-9 years old and 359 exponents aged 10-12 years old.
Koryo Taekwondo Club once again emerged Grand Champions of the Central Zone, collecting 9 gold, 12 silver and 25 bronze medals, while Smart MA Club came in second with 7 gold, 3 silver and 10 bronze medals. Koryo Taekwondo Club's success was largely due to their strong boys' team who took home the Overall Boys Team Champions title, with 6 gold, 7 silver and 12 bronze medals, while their exponent, Vanessa Laveenia Axton, 10, was awarded Best Female Athlete in the 10-12 age group category.
YBhg Dr Mehander Singh, Director of Sports Division, Ministry of Education Malaysia officiated the medal presentation and closing ceremony. He said, "The steadfast commitment of Nestlé KOKO KRUNCH® to the development of Taekwondo at the grassroots level in Malaysia is indeed laudable. The Nestlé KOKO KRUNCH® Junior Taekwondo Championship which is organised across the nation gives exponents the opportunity to develop their skills from a young age. Thanks to this well-established platform, I am confident that many of our young Taekwondo exponents present here today will one day be the pride of our nation!"
Mr. Mark Fisher, Business Executive Officer for Nestlé Breakfast Cereals Malaysia and Singapore said, "We are fully committed to supporting events such as the Junior Taekwondo Championship. In addition, this event is a platform that nurtures future champions and we are pleased to have contributed to the positive development of Malaysian children through sports. As testament to this, Rozaimi bin Rozali, a former bronze medal winner of this championship, made our nation proud by winning gold in the 2017 SEA Games Kuala Lumpur."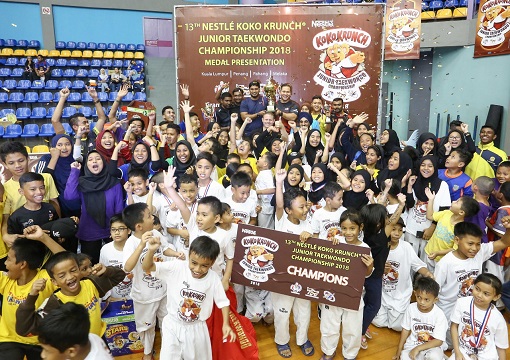 Besides the central zone, the 13th Nestlé KOKO KRUNCH® Junior Taekwondo Championship will be contested in three other regional zones. The northern zone championships will be held in Penang on 17 March, east coast zone in Pahang on 21 April, and southern zone in Melaka on 12 May. In addition, Singapore will also be hosting a Championship and all the regional and Singapore medallists will be invited to the Grand Finals in Kuala Lumpur on 7 July to compete for the much coveted Tunku Imran Challenge Trophy.