In spite of uncertainties, Krishnan finally laid to rest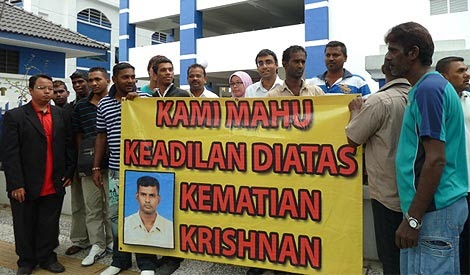 "Don't you have kids?" that were the words hurled in front on the Bukit Jalil police station in Kuala Lumpur as the family of death-in-custody victim M Krishnan conducted his final rites after his second autopsy recently.
Hordes of individuals gathered in front of the police station, where Krishnan had passed away while being in custody on Jan 7, and performed the 37-year-old's rites right in front of the station while calling the policemen to show themselves.
Krishnan's son sat under the scorching son performing the necessary prayers while being monitored by Subang Jaya Member of Parliament R Sivarasa, Teluk Intan Member of Parliament Manogaran, Gobindh Singh Deo and Port Dickson assemblyperson M Ravi among others.
Krishnan leaves behind his 37-year-old wife P Revathi and six children, and was the sole breadwinner of the family prior to his arrest on Jan 3 and his subsequent death.
Police claims that he was arrested for a drug related offence, and the first post mortem conducted at Hospital Universiti Kebangsaan Malaysia stated that he died due to stomach ulcer.
Two buses and several cars had transported the individuals to the location, while Krishnan's body was brought about in a Mercedes that bore the sign 'hentikan kekejaman polis' (stop police atrocities)
All access gates to the police station were closed as early as 9 am in the morning, with only several constables seen monitoring outside the station.
"This is just a repeat of Kugan's incident," said Sivarasa, who also claimed that the police have no remorse over the incident as several officers were allegedly 'laughing' off the attendees' call for justice.
Krishnan's body was later cremated at the Sungai Buloh Hindu crematorium.
The second post mortem result, which was released the day after, concurred with the result of the first post mortem.
The family has since declared that they will challenge the autopsy results.