Online tuition sponsorship for 50 needy students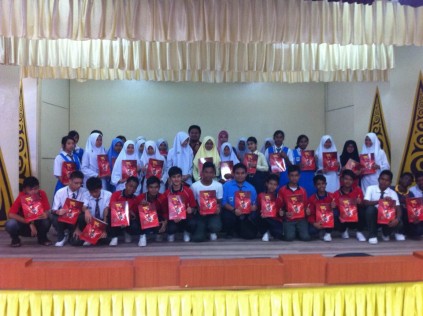 Fifty Form Three students from Sekolah Menengah Sultan Badlishah in Kulim, Kedah, recieved sponsorship worth RM800 each in the form of fully subsidized subscription fees for one year usage of the 'MyStar' web portal.
'MyStar' is an educational web portal which was set-up in 2008 by a private company, PuncakMas Marketing Sdn Bhd, as a tool for students to improve their grades in school.
It functions somewhat like a tuition center only the services are available online and provides learning programs for all levels for children aged between 3 and 6 years (pre-school), right up to secondary school students who are preparing to sit for the Sijil Pelajaran Malaysia (SPM) examinations.
According to PuncakMas Marketing's  Managing Director, En. Mohd Norzuzafni Zulkifli,  since its inception,  'MyStar' has received an overwhelming response from parents and students alike. He said this today, after handing out the passwords to the fifty student in a award ceremony, here in Kulim.
"Each sponsorship is valued at RM800 per person and so far over six thousand students from both primary as well as secondary schools in several states in the West Coast of Peninsular Malaysia have benefited from this scholarship"  he said.
The students were selected from needy families that could not effort tuition of their own for the children due their financial circumstances.