Teacher throws shoe at 7-year-old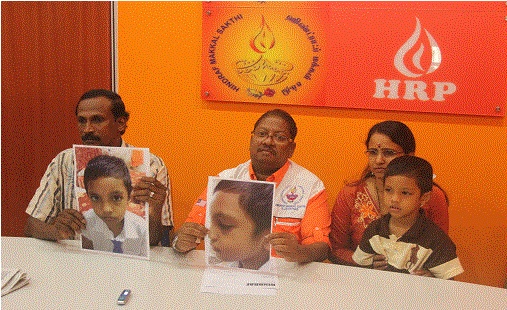 A teacher from Sekolah Rendah Kebangsaan Damansara Damai threw her shoe at a 7-year-old student yesterday.
The boy's father Murugan s/o Arumugam subsequently brought the matter up with the Hindraf office today. The father claimed that his son's face swelled up and was given three days medical leave by a doctor from the Sungei Buloh General Hospital.
According to Murugan, his son Sri Tharan Murugan began schooling three months ago. His teacher Sri Nur Adha Mat Ali allegedly threw a shoe at him nearly hitting his eye when he was found talking during lesson to his friend, Kavi Varthan.
Also accompanying the boy is the  mother Manimegalai, 44. She claims that her son was treated violently and if was uncalled for.  As a result the boy told her that he did not wish to go to the school anymore.
S.Jayathas who represents the Hindraf Makkal Sakthi group held the press conference on the matter at the Hindraf headquarters in Bangsar.
He said an official letter was written to the Ministry of Education's office and the Bukikt Aman Police Station so that  stern action would be taken on the teacher.
The matter was also reported to the school headmaster and Sungei Buloh Police Station.
Video by, Azmi Aziz, Citizen Journalaist