Cash aid for Alor Setar storm victims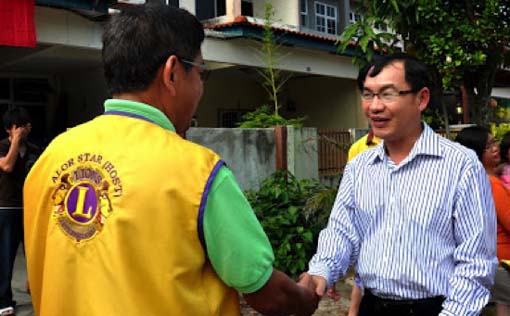 Although the full extent of the damages caused by the freak thunderstorm which hit Alor Setar and Jitra yesterday is still unknown, some areas have already been classified as badly hit. One such area to be identified is Kampung Alor Melong in Alor Setar.
The property damages there range from as small as broken potteries to as large as roofs being ripped off houses. This was especially true in the case of  Lorong Seri and Lorong Keriang.
Eight of the houses there were badly damaged. Two of which lost their entire roof as a result of the strong winds that preceded the thunderstorm. The roads were also seen to have been damaged by the torrential downpour.
Meanwhile, the Kedah State Assemblyman for Derga, Dr Cheah Soon Hai (pic), who visited the victims in the area today, said early assistance in the form an initial cash aid has already been disbursed to the victims, in the hope of easing their financial burden in repairing their homes.
The amount handed out today ranged from RM150 to RM300, and was was given to the victims based on the extend of the damages to their houses.
Cheah, who is also the Kedah State's Gerakan Chairman, added that he has already contacted the Social Welfare Department (JKM) to enumerate the extent of the damages, and have also called in some contractors to assess and repair the damages immediately. A further RM1000 was allocated to cover the cost of repairing the damaged roads.
Picture taken from: http://kedahleo.wordpress.com/