Randy: Abandoned and stateless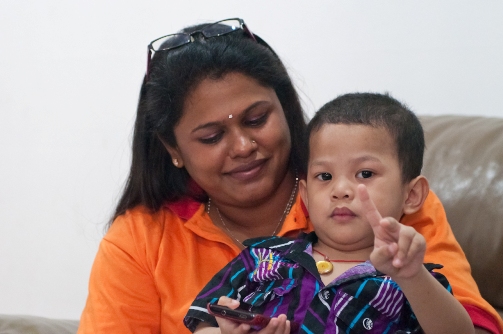 This story is about Randy, a boy who was abandoned by his parent a year ago.  Without parents and any papers, he is considered stateless. Randy was brought to  the Padmasambhava Children Loving Association, Klang by his grandmother, who said that the father of the boy had died and that the mother had run away.
The grandmother having claimed that she would come back with the necessary papers the next day, she is yet to appear.
The Children Loving Association has continued to look after Randy and is in the process of applying to relevant authorities for his birth certificate, failing which they are obligated by law to surrender him to the Welfare Department.
The Padmasambhava Children Loving Association Klang was founded by Reverend Ani Yeshe Dolma some 20  years ago.  Her family has been funding the activities of the association with help and donations from the public.
There are a total of 11 volunteers  and four workers at the Association, looking after a total of 55 orphans like Randy. Most of them are of school going age.
You are welcomed to make any contributions to help Randy and the rest of the orphans there:
1.    By crossed cheque to Padmasambhava Children Loving Association Klang Selangor
or
2.  By direct bank into: Hong Leong Bank Berhad
Account No: 03600147652
For those who wish to visit the Association, the address is:
No 23 & 25, Lrg Sungei Nibong 1A,
Batu 3 1/2, Taman Mewah Baru
Off Jalan Kapar, 42100
Klang, Selangor