10,000 show up in support of Palestine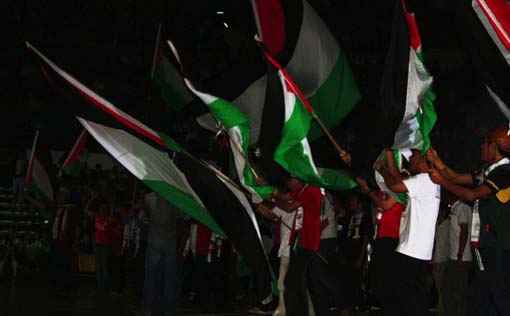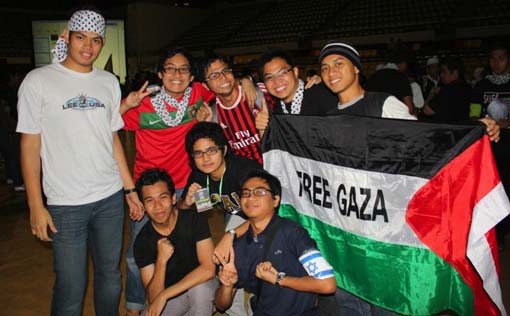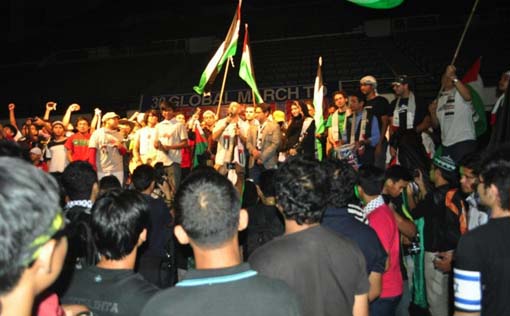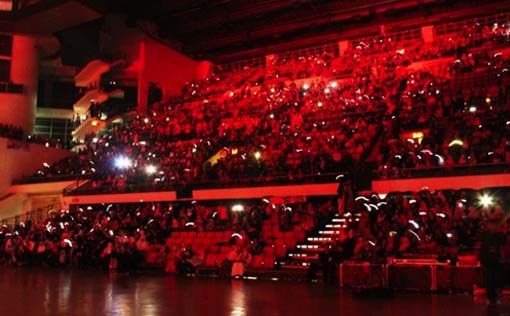 A mass gathering of an estimated 10,000 crowd was held at the indoor Stadium Melawati Shah Alam on Friday night in conjunction with the Global March to Jerusalem (GMJ) recently.
GMJ is a global initiative that is organizing non-violent civil resistance in Palestine and the four neighboring countries: Egypt, Lebanon Jordan and Syria.
Their two-pronged missions are 1) to demand freedom for Jerusalem and call for access to Jerusalem for people of different faiths, and 2) to raise global, human rights awareness and demand freedom for the people of Palestine that are oppressed by Zionist regime.
The local committee, Malaysia Global March to Jerusalem, or MyGMJ, has been been organizing various events like flashmobs in Kuala Lumpur throughout the month as part of this global campaign.
College and universities students made up most of the crowd, though there were also delegates from NGOs like Aqsa Syarif, Pertubuhan IKRAM Malaysia, ABIM ( Angkatan  Belia Islam Malaysia) and Mercy Malaysia.
This event was hosted by TV3 presenter Ally Iskandar, and Nurul Iman Dzulkefly, a member of The Wayfarers and host for TV Al-Hijrah. The event started with a march of dozens of Palestinians who reside in Malaysia.
In his opening speech, Dr Tahir Abdul Rahman, chairman of the local GMJ committee, told the crowd that Malaysians have been able to enjoy much prosperity after Independence, but the same thing cannot be said to the brothers and sisters in Palestine.
Musa Mohd. Nordin , the Deputy Chairman then led the crowd with the chants "Free, Free Palestine!" and  "From the river to the sea, Palestine will be freed!"
This was followed by a string of speeches and performances, from fiery speeches, poem recitations, and group singing to choir performance, by school children and college students.
The climax of the event was a flash mob staged by students from UIA (International Islamic University Malaysia), UiTM (University Teknologi MARA) and Taylor's College.
The event ended with Maher Zain's Freedom sung by the flash mob team and the crowd.