RAPID project impact explained
Yesterday, immediately after a press conference called by the state assembly person for Skudai, Dr Boo Cheng Hau, who spoke on the irregularities in the tender awarding process to upgrade phase one of the Segamat-Tangkak-Muar highway, citizen journalist asked for his comments on the much publicised controversial Refinery and Petrochemical  Integrated Development (RAPID) project in Pengerang, here.
Dr Boo commented that the development of RAPID project had raised 2 critical aspects.  One on the environmental aspect and the other, the impact it created on the fishermen's livelihood.
Adding, he said, there will be a massive land reclamation taking place in Sungai Kapal which can cause flooding to the surrounding area.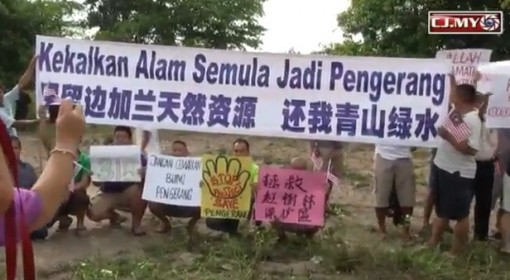 The project will also cause serious environmental impact like air and sea pollution which will adversely affect the health and livelihood of the people in Pengerang.
The compensations offered were not enough to pay for the long term loss of the people particularly the fisherman community, said Dr. Boo
Since the region has been known for its eco-tourism and fishing industry, he said, the government should focused in developing the tourism related industry further instead of a petroleum industry which will destroy the environment including the traditional fishing ground of the fishermen in that area.
Even this issue has been raised twice by me in the state assembly but that is not good enough, he added.
Dr Boo then said, the people of Pengerang must decide for themselves and should not only take court action but also take more forceful actions through peaceful means to tell the government on they want for their future.
Video by, Fung Lee Jean, Citizen Journalist