Restaurant robbed twice in six months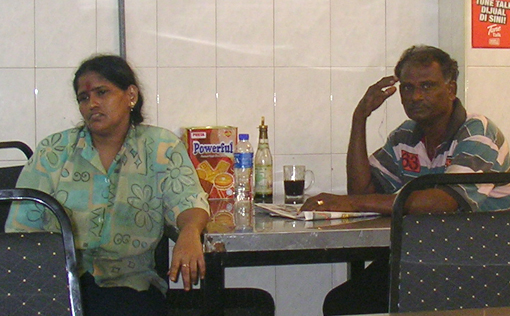 Muhibbah Jaya restaurant in Taman Merdeka, Melaka was robbed twice in six months; the latest was on Thursday, April 5.
According to the restaurant owner Mageswary, the three robbers walked in casually pretending to be customers.  Soon they followed Mageswary's son Suthagaran, who went to the drinks counter.
The robbers fired a shot before snatching Suthagaran's gold chain worth RM7,000.
The mother and son panicked and ran out through the back door before shouting for help.
The robbers also ransacked the cashier counter and got away with the days collection worth RM2,500.00.
According to Suthagaran, he and his friend tried giving a chase and managed to catch up with the robbers near an intersection at Taman Merdeka but the robbers fired the second shot, which made both of them to back off.
No one was hurt in the incident. This is the second time the restaurant has been hit, the last was in October 2011, whereby the robbers got away with a gold chain worth RM8,000 and cash amounting to RM3000.00.
A police report was lodged soon after at Batu Berendam police station.