Raffles' flamboyant graduation
Raffles College of Higher Education celebrated its 27th graduation day by staging a Graduate Fashion Show showcasing the talent of 13 Advanced Diploma in Fashion Design graduate designers at the Mayang Sari Ballroom in JW Marriott Hotel, Kuala Lumpur recently.
The amazing collections dressed up by models walking the runway received applause and cheers for their artistic and avant-garde designs in front of a packed audience of students, parents, special guests and academic staff of Raffles College.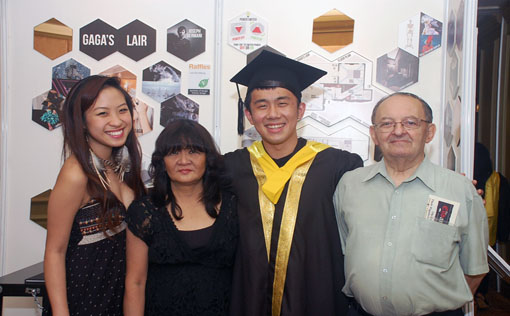 Sitti Balqis Natasyrah 25, who graduated with an Advanced Diploma in Fashion Design, emerged the winner in the competition for the Best Collection Award with her Existentialist collection. First runner-up was Gynn Ling Siu Gin (Collection Title: Manimal) and second runner-up to Joyce Lim Hui Shi (Collection Title: The Circus of Life).
"I felt awesome and surprise because I did not expect to be the best one as all my classmates had done a good job as well and I'm so proud of them but I'm very happy to win because all my family members had travelled all the way from Switzerland, Indonesia, Pakistan, USA and France to attend my graduation show and at the end it's like having a cherry on the top of ice cream," said Sitti who was inspired by the idea philosophy of existentialist (her collection theme) that human beings were able to change their way of living.
"I was in Africa when I searched for a Fashion Design college. I came from Aceh where there was conflict and tsunami in 2004, so I saw a lot of sadness in my life. One thing, I need to balance my life with a lil of beauty, art and fun as I love to design [with conceptual design] and happy to see everyone wearing my garments and looking good on them.
On her future plan, she said: "I can't really tell now, but I have a big goal. There is this Livelihood Project in Third World countries where women are struggling with their meagre income or are abandoned by their husbands and families so I would like to train them on how to make clothes to help them get jobs.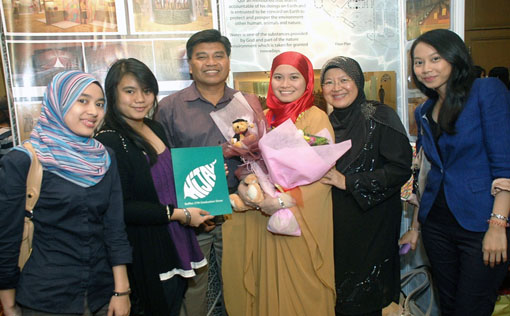 "I would like to work together with humanitarian organisations such as UNICEF and the British Red Cross which I had worked for them before during the tsunami recovery in Indonesia and I have been traveling to Africa, Europe, Latin America and South East Asia and it was from there that I saw a big dream to help people in dire need".
At the graduation show, held twice annually, a total of 103 graduates received their scrolls for completing their respective programs which included 20 people who received their Bachelor Degree, 77 people who received their Advanced Diploma and 6 people who were awarded Specialist Diploma.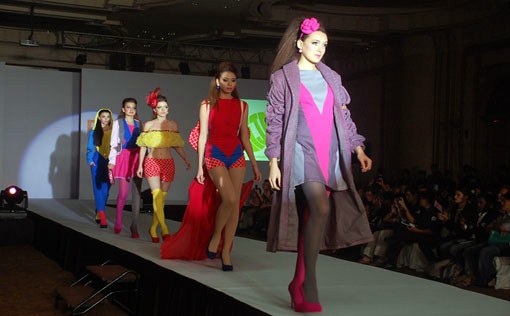 College director David Yee presented the scrolls to all the graduates and congratulated them for their scholastic achievements. He also presented awards to top students for outstanding academic achievement from each program as well as for best fashion design collection and best final year project.
For the occasion, the final projects made by the graduating students demonstrating the knowledge, skills and abilities they learnt and acquired at the college were put on display.
Lee Kin Weng who graduated with his Bachelor in Interior Design said he was really excited and looking forward to his passion turned career.
"Interior design is very interesting to do. For now I would love to work first to gain experience what they have here and for the future I think I won't predict yet," he said.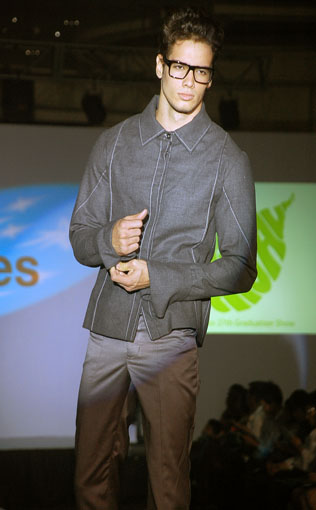 "Inside me, I have this passion for interior design since childhood because during my free time I would love to browse through all the interior design books and I feel very close to them. It's in a way, something I would want to do that instead of saying 'Oh it's nice', " added the 20-year-old from Kuala Lumpur who goes by his stage name Joseph Germani.
"Interior designing is evolving because it's not only about the interior of the house anymore, it's now more commercialised because it needs more content now and especially for Malaysia which is a growing country for interior design, I think there will be more opportunities to explore in the future."
For Kin Weng, it was a choice of a few colleges and he finally chose to study at Raffles because he was impressed after he visited the college and it has small class–size so each student will received more attention.
On his final graduation project, he came up with his own idea of a hotel room concept called "Gaga's Lair"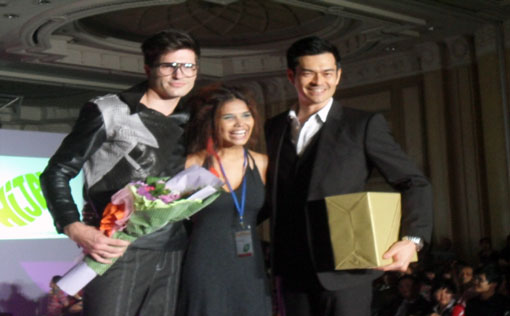 "I combine all the materials of constructivism of Lady Gaga and put into one media which is the hotel room. Initially I was looking for a strong personality like Michael Jordan and Frank Gehry who is an architect but then Lady Gaga has a star quality which is interesting.
"To cut it short, this project is actually a journey into Lady Gaga! It's like seeing how a hotel room would look like if it is interpreted Lady Gaga so people who love Lady Gaga or who want to experience her could come in."
Another graduate of Advanced Diploma in Interior Design, Fatin Amira Binti Junaidi, 25, from Kuching, Sarawak said she looked forward for the challenge on starting her own business one day.
"I plan to work first to learn everything and acquire experience before starting my own interior design company," she said.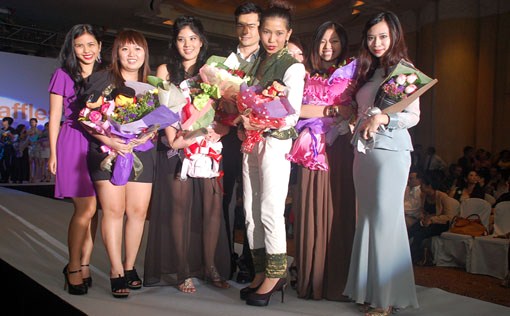 The breakdown of 103 graduates from the different programmes:
Bachelor of Design-Interior Design: 6
Bachelor of Design-Multimedia Design: 3
Bachelor of Design-Graphic Design: 3
Bachelor of Design: Fashion Marketing: 8
Specialist Diploma in Applied Psychology: 6
Advanced Diploma in Fashion Design: 13
Advanced Diploma in Fashion Marketing & Management: 27
Advanced Diploma in Jewellery Design: 2
Advanced Diploma in Interior Design: 21
Advanced Diploma in Visual Communication: 14
Awards given out during the convocation and fashion show:
Bachelor of Design-Interior Design
Best Final Project: Chan See Leng
Bachelor of Design-Multimedia Design
Best Final Project: Ferranie Yaphari Sofyan (Project Title: The Pitfalls of Facebook)
Advanced Diploma in Fashion Design
Top Student Award for Academic Achievement: Joyce Lim Hui Shi
Best Collection Award: Sitti Balqis Natasyrah (Collection Title: Existentialist)
Best Collection Award 1st Runner-Up: Gynn Ling Siu Gin (Collection Title: Manimal)
Best Collection Award 2nd Runner-Up: Joyce Lim Hui Shi (Collection Title: The Circus of Life)
Advanced Diploma in Fashion Marketing & Management
Top Student Award for Academic Achievement: Hean Sue Fang Joselyne
Best Group Project Award: Accarea
Advanced Diploma in Jewellery Design
Best Collection Award: Mehrnaz Esmaeili Nia
Advanced Diploma in Interior Design
Top Student Award for Academic Achievement: Cindy
Best Stage & Exhibition Design: Shee Chuan Kuang
Advanced Diploma in Visual Communication
Top Student Award for Academic Achievement: Chin Zhao Yii Joanne
Best Display Award: Soh Ning Qi (Project Title: Stitchon)