Sabahans election yellow fever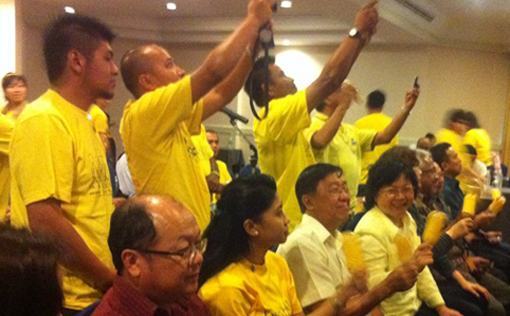 Bersih Sabah successfully launched the "Jom 100" campaign on Sunday, April 8 at Oriental hotel.
The campaign was launched by Bersih's chief, Ambiga Sreneevasan.
"Jom 100" is an effort to achieve 100 percent voter turn out at the upcoming 13th general election in order to uphold the democratic principles and mitigate electoral fraud.
Andrew Ambrose and Anne Lasimbang have been officially appointed as the steering committee member of BERSIH and spokespersons in Sabah, at the recent Bersih 3.0 press conference inKuala Lumpur.
According to Andrew, "Jom 100" is an active call on all Sabahan to take their voice to the ballot box and hopes that Sabahan will come out to vote in full force to make a difference.
"Through "Jom 100", we are doing our part to strengthen democracy by sending a message that voters want electoral reform. Particularly Sabahan who are faced with problems of replicated identities in electoral rolls," said Andrew.
"Jom 100", is a nationwide campaign that tours aroundMalaysiaincluding Perak, Kedah, Terengganu, Johor and nowSabah.
This campaign will be held in Padang Bandaran from 2.00 pm to 4.00 pm
Also present during the launch  is the state assembly person for Likas, Liew Teck Chan, assembly person for Luyang Melanie Chia, Sabah Progressive Party (SAPP) secretary general, Richard Yong, Parti Keadilan Rakyat (PKR) Kota Kinabalu divison chief Christina Liew, PKR Tuaran division chief Ansari Abdullah, STAR Sabah chairperson, Jeffery Kitinggan and Kota Kinabalu Umno Youth members.
Information and updates on Bersih Sabah can be found on the Facebook at www.facebook.com/pages/Bersih-30-Sabah or via Twitter at @BERSIHSabah