Spreading love by pledging organs to save lives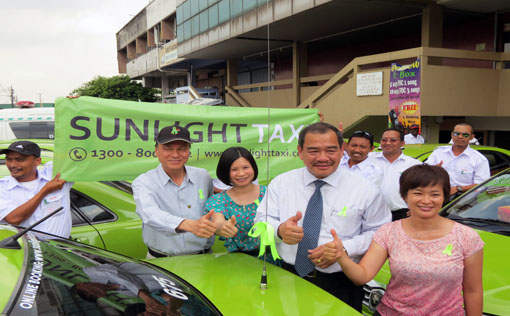 The Spread Love, Save Lives campaign organized by Voice of Women, an NGO, aimed at promoting public awareness about organ donation went into full gear with the official kick-off by Transport Minister Kong Cho Ha at Section 21, SEA Park in Petaling Jaya on Wednesday April 4, 2012.
The transport minister tied a green ribbon on a Sunlight Taxi's radio antenna and flagged off the taxi to launch the taxi campaign where 100 taxi drivers from the company would distribute the Spread Love, Save Lives campaign brochures, pamphlets and green ribbons during the one-month campaign period which will end on May 9th.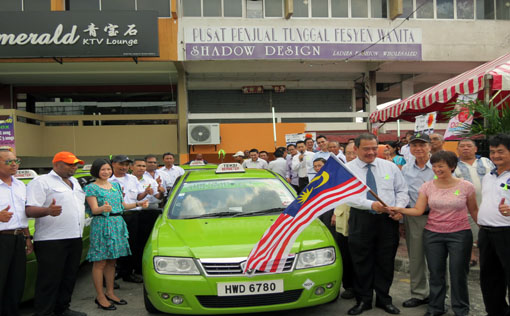 The green awareness ribbon is an international symbol of support for organ and tissue donation. This year, the "Do it together" tagline is used to garner support and gather strength to promote organ donation.
Speaking to CJMY, the Voice of Women KL and Selangor president Chew Hoong Ling said: "The number of organ donors are low as todate only 0.06% or 190,000 people of the 29 million population have pledged their organs after death. This campaign hopes to increase the number of organ pledgers so that more lives could be saved.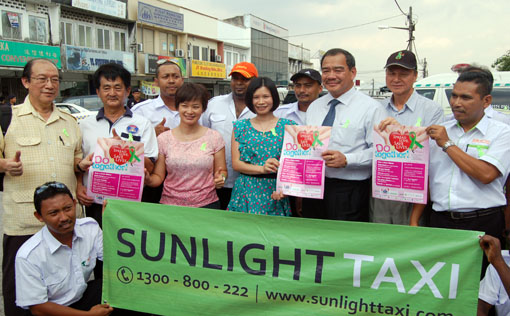 Chew said she was a living donor and knew the consequences as a living donor.
"If there are enough cadaveric donors around, there is no need for living donors who are opened to organ trading in the black market and could harm human lives so I would like to encourage more people to donate their organs after death," added Chew, who is also a member of the Health Ministry's Public Awareness Action committee for Organ and Tissue Donation.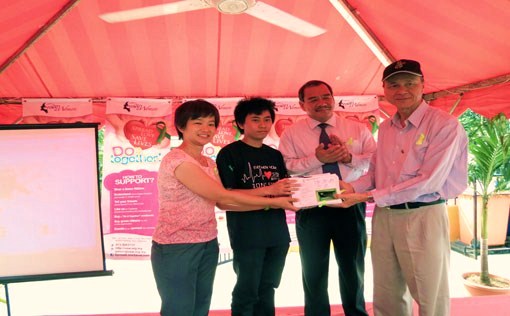 "We started the campaign last March 18 and I must say we are happy with the encouraging response. Todate we have received 800 pledges from the general public."
During the ceremony, Tan Sri Lee Lam Thye received 800 organ pledge forms from Chew and a JCI Youth HELP University representative. Lee also presented certificates to sponsors who contributed in support of the campaign.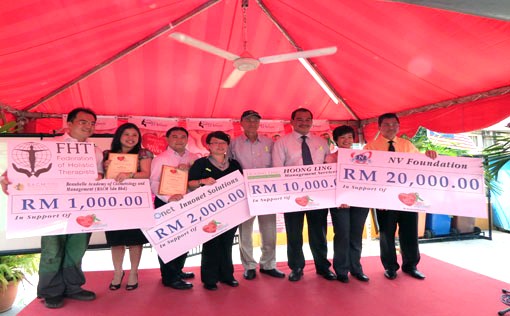 The sponsors were from NV Foundation (RM20,000), Hoong Ling Management Services (RM10,000), Innonet Solution (RM2,000) and BeaubelleAcademy(RM1,000).
Also launched was a "Pledge Now" Facebook application which allows Facebook users to make organ pledge upon their death and the screening of "Please Take One" campaign video to raise awareness about organ donation and to encourage people to be more generous by donating their organs.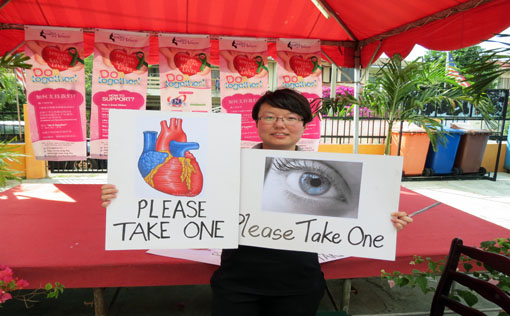 Chew urged Facebook users to hit the "Like" button to show their support for the "Spread Love, Save Lives" organ donation campaign.
Present to witness the launch were Health Ministry's Public Awareness Action Committee for Organ and Tissue Donation chairman Tan Sri Lee Lam Thye, National Transplant Resource Centre chief national clinical manager Datin Dr Lela Yasmin Mansor, Sunlight Taxi Group of Compnaies CEO Choi Wei Yee, PJU federal development officer Dato' Dr Wong Sai Hou, Voice of Women KL and Selangor president Chew Hoong Ling and Section 21 SEA Park Rukun Tetangga chairman Gan Keng.
For details, contact Voice of Women Association KL and Selangor at 016-331 0325, 016-233 2993 or http://vow.org.my