Eligible voters cannot register at post offices
Many eligible voters left disappointed in Johor Jaya  when they could not register as new voters as many post offices, which has been conducting the registration has ran out of forms.
At the Rosmerah post office, Johor Jaya, the post office clerk, who does not want to be identified, said he was unable to do the registration because he had run out of forms.
According to him the forms had ran out quite sometime back and he is also not sure when the forms will be available. He suggested visiting the state Election Commission (EC) office at Wisma Persekutuan, Jalan Air Molek, Johor Bahru.
He also mentioned that the forms actually ran out two days before voters registration ended on March 31, 2012.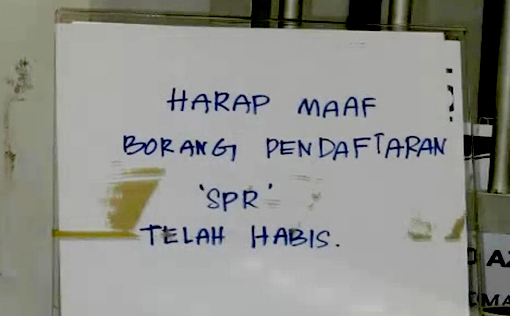 The same situation happened at the Giant Hypermarket post office, Plentong.  A sign was displayed on the counter showing that the forms not available.
The post office counter clerk said that voter's registration is no longer available in that post office.  He also suggested visiting EC office in Wisma Persekutuan.
Pos Malaysia is one of the outlet selected by EC to conduct voters registration through the country.
Video by: Christine Leong, Citizen Journalists Malaysia