Najib urged to resolve Malaysia born stateless Indians issue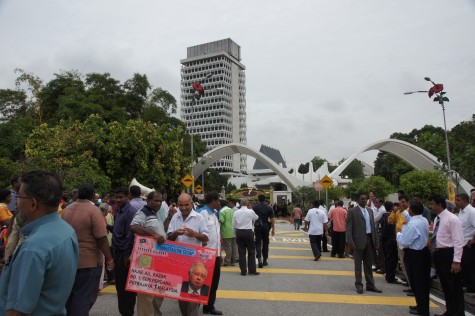 Hundreds of Malaysian born stateless Indians who are holding red identity cards gathered at the road entrance to the Parliament House on April 19 in protest against the government failure to resolve their plight in getting their rightful Malaysian citizenship.
PKR vice-president, N Surendran said, he organized the protest for the group comprising individuals who arrived by busloads at the Parliament House entrance gate from different parts of the country.
The group plans to hand over a memorandum  to the prime minister at the Parliament House to highlight their 'limbo' status and to urge the prime minister to resolve the issue within 48 hours.
Surendran attributed this sad state of affairs to Umno-BN's apathy, indifference and lack of sympathy or concern for the hundreds of thousand of the poor and the oppressed Malaysia born stateless Indians throughout the country.
An estimates gathered from various concern and interest groups including the Hindu Rights Action Force (Hindraf), indicated there are about 300,000  Malaysia born stateless Indians in the country who do not have either birth certificates and or identity cards.
He reiterated and said, he disputed the government figures that there are only 40,000 Malaysia born stateless Indians in the country.
Citing an example, he said, in the state of Selangor alone, there are already almost  40,000 such cases.
Surendran told reporters that, in Sabah, the government has been giving out citizenship to thousands of foreigners there whereas here in peninsular Malaysia, many migrant workers from Bangladesh, Nepal and Indonesia were also given citizenship.
Hence, he said, why do our very own people who were born and have lived here all their life were not given their rightful citizenship.
Everywhere  this marginalised group faced discrimination, said Surendran, and they are like being abandoned and long forgotten where they live their life of unrelieved poverty and pain.
They are not only being denied educations, employment opportunities but are also not protected under the Social Security (Socso) and Employee Provident Fund (EPF) schemes if they are under employment.
Surendran alleged that Umno/BN administration has been using their recent MyDaftar campaign to hook wink the public into believing that the government was serious in resolving the issue which in actual fact, is a tactic to fish for Malaysian Indian votes for the coming general election.
The Malaysian born stateless Indians issue is a result of Umno-BN  who has systematically neglecting and marginalising them for over many years, said Surendran.
He then called on the Prime Minister Najib Razak to apologize to the Malaysian born stateless Indians for the deprivation and discrimination caused to them.
In concluding his statement, Surendran urge the BN leadership to resolve the issue immediately to allow this long discriminated group of Malaysia born Indians to blend themselves into the mainstream of the nation thus, ending their years of sufferings and neglects or face more protests.
Meanwhile, Hindraf activists were seen distributing flyer to the those who are present at the protest venue.