Dr Jaya visits students at Dataran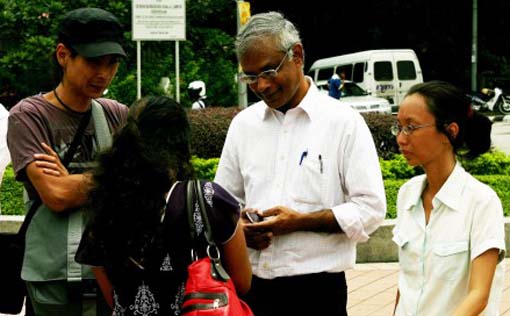 Sungai Siput MP, Dr Jayakumar visited the group of students who was attacked by unknown assailants in Dataran Merdeka on April 19.
"The use of force against a group of unarmed, peaceful protester is not right; not the type of culture in Malaysia. I think that the government should engage with them," said Jayakumar.
He also urged the relevant party to debate on how to send students to college without having PTPTN (National Higher Education Loan Fund).
"Because right now, the PTPTN system, something like 40 billions has gone out to private companies that run courses and make huge profits," he said emphasizing that the government should subsidise education up to tertiary level.
An elderly woman who doesn't want to be identified also  was seen giving some medicine, plaster and food to the protesters.
She said that she felt bad for the students who had to endure  the hot sun and rain and  the attack by the thugs.
"I thought one day my children will need the education, they might be here as well. But somebody is fighting for our children, for their better future. So I am doing just a little bit what I can do," she said.