Aliran to organise sit-in at Esplanade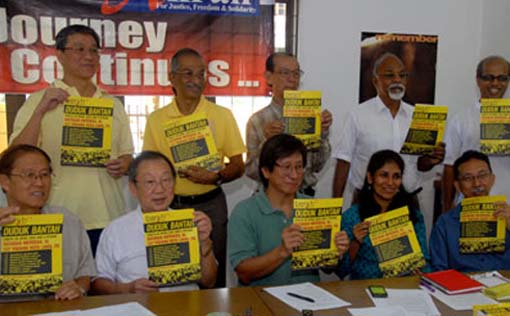 Aliran Penang, one of the 84 NGOs in the Coalition for Clean and Fair Elections (Bersih 3.0), and is represented in the Bersih 3.0 Steering Committee, will be organizing at sit-in at the Speakers Square, Esplanade,Penang this April 28.
Aliran president, Dr Francis Loh, hoped that those who can't make it to KL, will turned out in  full force to support the 'Duduk Bantah' Bersih 3.0 at the Esplanade
"There will be short speeches, sing-a-long and other interactive activities." said Dr Francis Loh in a press conference today.
"A local activist will read a sajak titled 'Unggun Bersih' (cleansing fire), specially written by Sasterawan Negara Pak Samad Said for Bersih 2.0, of which he is co-chairperson."
Dr Loh also said that the Penang state government had given them permission to use the venue. Chief Minister, Lim Guan Eng is expected to attend the event and address the gathering.
Aliran will also inform the police soon and seek their cooperation to provide security.
Dr Loh stressed that this will be a peaceful event and invite Penangites of all ethnic, religious and political background to attend.
He requested those attending to dress in yellow and bring along an umbrella.
BERSIH 3.0 DUDUK BANTAH PENANG
Date:  29 April (Saturday)
Time:  2.00pm
Place: Speakers Square, Esplanade,Penang