Mother of one wins Mrs Malaysia International 2012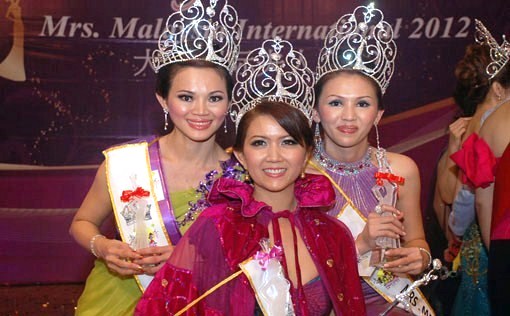 Rachel Sua, aged 41 and a mother of a five year old boy won the Mrs. Malaysia International Pageant 2012 at the grand finale held at Flamingo Hotel Grand Ballroom on April 28, 2012.
In the pageant for married women and mothers, Rachel from Kuala Lumpur took the crown beating off the challenge from 18 other finalists. She took home a cash prize of RM5,000 sash, crown, trophy and sponsorship prizes worth RM36,000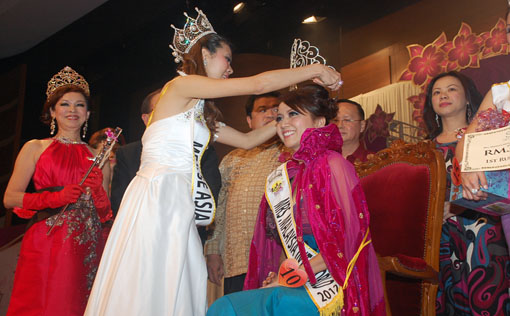 "I didn't really expect to win but at the same time, I have confidence in myself," said the former MAS air-stewardess of 12 years and who quit her job five years ago to setup her own company as an image consultant. It was the first time she has ever entered a pageant.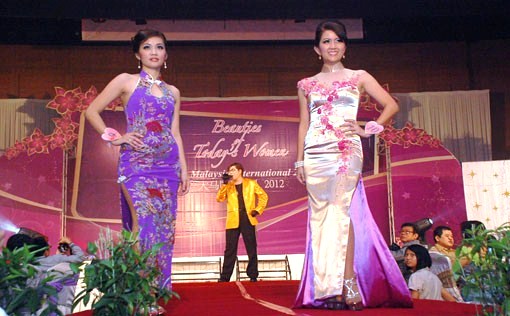 Rachel is the founder of Perfect Colour Image (PCI) Consultancy providing training to professionals and corporate people.
"I love myself at every age and in every stage of my life I want to try something new that I have not tried before. At 20, I was an air stewardess, then at 30 I set up my own company and now at 40 I want to try something new so I joined this pageant."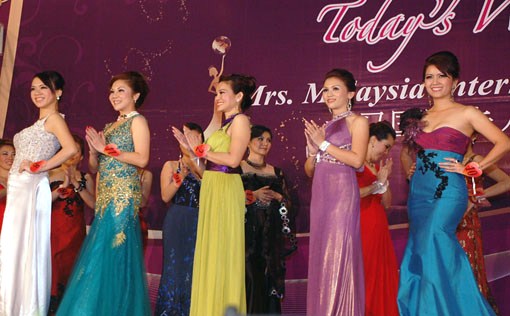 Rachel who stands five feet five inches said she kept herself fit and stay in good shape by doing a lot of exercises like yoga and swimming.
"As an image consultant I am very concerned about personal grooming so from head to toe I really take care of myself. I eat quite light but at times I also enjoy all kinds of food."
"I think this is a very good opportunity for all the women in Malaysia. At every age we must have our confidence. If we think we can do it, we will do it, " added Rachel who will donate the cash prize to charity.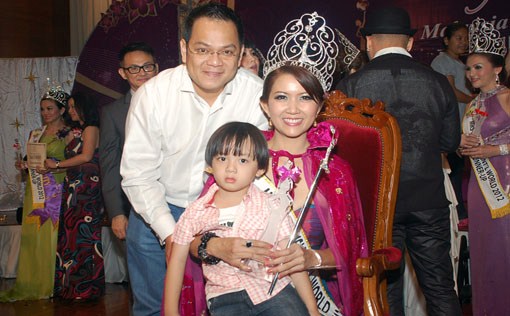 Event producer and director C.T. Chin said the pageant title holder represents today's married women with a happy family and able to cope with the responsibilities of her family and community, as well as the commitments to being Mrs Malaysia International during her reign.
First runner-up went to businesswoman Bobo Lee, 32, a mother of three children and second runner-up to another businesswoman Joey Lim, 34, a mother of 2 children.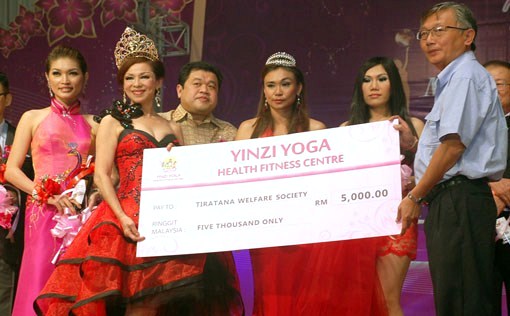 All the 19 finalists arrived from the ballroom entrance all dressed in white bridal dress, then paraded on the runway stage in three rounds of wear; namely casual wear, cheongsam wear and evening wear. There was no swimwear.
In the talent portion, the women showed off their dancing, singing, kung fu, yoga and other skills they have and the Q & A portion was answered in Mandarin by the final top five finalists.
Sixteen subsidiary titles were awarded prior to the crowning of Mrs Malaysia International 2012.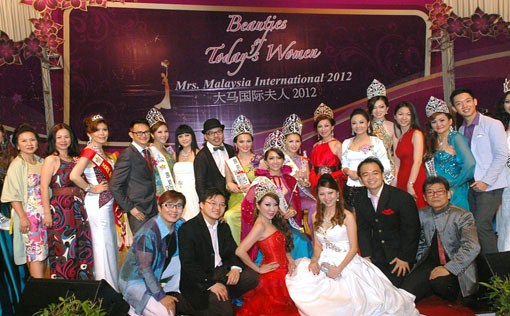 The pageant organiser Yinzi Yoga Health Fitness Centre did its part of corporate social responsibility by donating RM5,000 to Ti-Ratana Welfare Society, an NGO providing shelter, education and care to orphanage, old folks and women.
Among the panel of celebrity judges were Amber Chia Academy founder and supermodel Amber Chia, Ford Supermodel 2010 and catwalk guru Kelly Jagan, Elite Community Ambassador of Mrs Malaysia 2011 Datin Maylene Yong, Mrs South East Asia 2011 Veronica Tan and Elite Mrs Singapore 2011 Irene Lee.