Spark the dialectical discourse
The highly anticipated debate between Ambiga Sreenevasan and Khairy Jamaluddin commenced at about 8.45pm on Wednesday, 25 April with a jovial handshake between the two speakers. The topic under scrutiny was "Electoral Reform".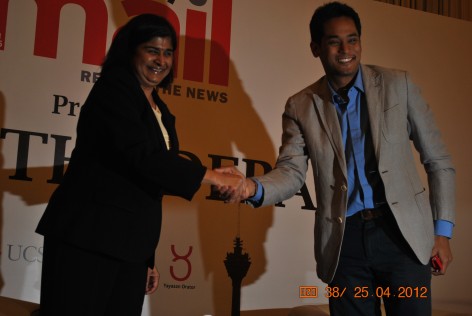 The speakers were articulate, and knew what they were there for, with Ambiga churning out facts and figures which repeatedly reinforced the point that neither the government nor the election commission has taken the 8 points raised by the Bersih 2.0 movement for the cleaning up of the electoral process before the 13th General Elections.
The main points raised by Ambiga were the issues of phantom voters, lack of media coverage for the opposition parties, the voting by Malaysians overseas and  indiscriminate redrawing of electoral boundaries.
Khairy was articulate in his response, with his main rebuttal emphasising on his perception that Ambiga and Bersih had jumped the gun in calling for the Bersih 3.0 rally on Saturday, 28 April.
He insisted that Ambiga's repeated accusation of fraud by the Election Commission and the government in not rectifying the voter list and purging it off the 46,000 odd doubtful voters had only served to alienate them from the process of electoral reforms.
He defended the Election Commission by falling back on the constitutional rights of all registered voters to remain on the electoral list until the is firm knowledge of their demise or disqualification to vote.
On the issue of indiscriminate  redrawing of electoral boundaries,   Khairy took the Selangor Menteri Besar's case into account and clarified that the Election Commission has merely redefined the boundaries between Wilayah Persekutuan and Selangor by reference to the Google mapping system.
The only error made by the Commission was in not informing the Menteri Besar that his constituency had been changed.
When it came to the rebuttal stage of the debate, Ambiga did touch on Khairy's points and rebut as much as she could, and insisted that the number 46,000 being bandied around by Khairy was only the tip of the iceburg, as the real problem involved a massive 3 million unaccounted for voters on the list.
Khairy's rebuttal was virtually non-existent, as all he did was to regurgitate what he had already stated in the 1st. half of the debate!
The debate was organised by The Malay Mail as part of its "Spark the Debate" series, and sponsored by UCSI University and Yayasan Orator.