MTUC: Employers should support the minimum wage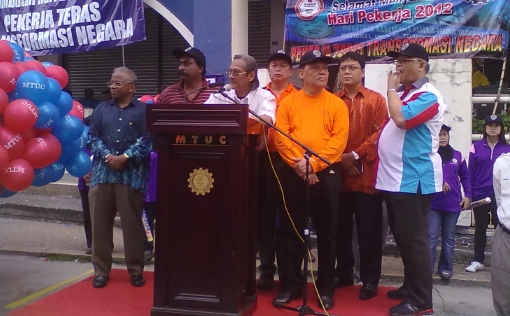 Employers should not say that productivity in Malaysia is low because it has been very consistent over years said Malaysian Trades Union Congress (MTUC) president Mohd Khalid Atan during the Worker's Day 2012 celebration at Wisma MTUC, Subang Jaya, yesterday.
Considering this the employers should not make it an issue as the productivity level of workers has increased while the adjustment in pay has been low over the years.
Khalid also said that for the past 15 years, the salary adjustment has only been 2.6% while productivity has increased to 6.7%.
Prime Minister Najib Abdul Razak has announced that the minimum wage for workers in Peninsular Malaysia had been set at RM900 a month and RM800 for Sarawak, Sabah and Labuan,
The minimum wage policy set to take effect six months from the date the order was gazetted.