Dutch tourists amazed with Vaisakhi open house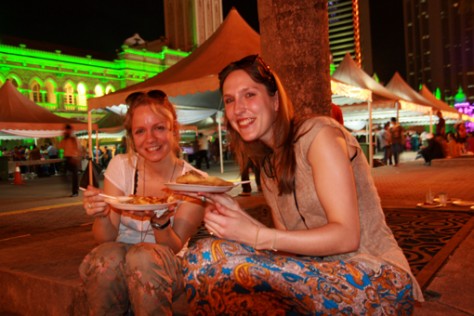 Two best friends from Holland were simply enthralled with delicacies served at the Vaisakhi 1Malaysia open house, which was officiated by Prime Minister Najib Abdul Razak at Dataran Merdeka, Kuala Lumpur last night.
"We had a big festival like this back in Amsterdam but we never actually get free foods like here,"said Shira Vriji, 24.
"The foods is amazing and delicious", said Vaza Vos, 24.
The two friends left the event with a great impression on how a multi-racial country like Malaysia is and looked forward to spend their holidays here.
Both Vriji and Vos is currently on three month vacation in Malaysia and their next destination is Sabah, where they will attempt to climb Mount Kinabalu.
The Vaisakhi 1Malaysia open house organised by Malaysian Gudwaras Council this year also features various cultural performances throughout the night with the performance of Malaysia's very own Bhangra superstars GoldKartz.