New oral medication for thalassaemic children
The Ministry of Health (KKM) has announced that a new drug will be available for dispensation in Malaysia soon, probably in a month or two, to treat children below eight who are known as thalassaemic patients.
The announcement about the new oral medication, called deferasirox (which will be sold under the brand name of Exjade), was made by the Health Minister, Liow Tiong Lai, after presenting the "Thalassaemia Patient Award of Excellence" to 33 thalassaemia patients who were outstanding achievers in their Ujian Pencapaian Sekolah Rendah, Penilaian Menengah Rendah, Sijil Pelajaran Malaysia and university examinations in a ceremony held in conjunction with World Thalassemia Day celebrations which fell on May 8th of this year.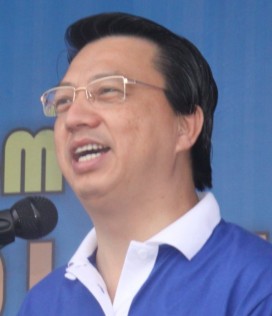 He said that the Cabinet has recently approved an allocation of RM80.9 million to KKM so as to enable them to give better care and treatment for young patients who are suffering from thalassaemia by taking Exjade orally without the need for an injection. "This includes an additional allocation of RM31.9mil to buy Exjade for 916 paediatric patients aged two to seven, as well as 166 new patients," added Liow.
Thalassaemia is a genetically inherited form of blood disorder passed down through families where the patient inherits a defective gene which results in reduced rate of synthesis or no synthesis of one of the globin chains that make up haemoglobin (the protein within red blood cells that carries the oxygen molecules) causing the formation of abnormal red blood cells.
The disorder results in excessive destruction of red blood cells by the body, which then leads to anaemia (a condition in which the body does not have enough healthy red blood cells) and if left untreated can prove to be fatal to the patient.
The standard treatment options for Thalassaemia is red blood cell transfusions, however long-term transfusion leads to elevated iron levels in the body, which is commonly known as "iron overload". To avoid this from happening, doctors treat the "iron overload" with a treatment called "iron chelation therapy".
Exjade (deferasirox) is an iron-chelating agent that binds free iron molecules and prevents it from accumulating to toxic levels in the body and thus improving blood cell counts as well as reducing transfusion dependency by the patient.
It is estimated that between three to five percent of Malaysians or about 780,000 to 1.3 million people are thalassaemia carriers with an average of 120 to 350 babies being born every year born with the disorder. However, according to the National Thalassaemia Registry, the number of babies born with the disorder has dropped significantly to 82 in 2009 from 192 babies registered when the registry was set up in 2004.