Agony surrounds postponed Lese Majeste verdict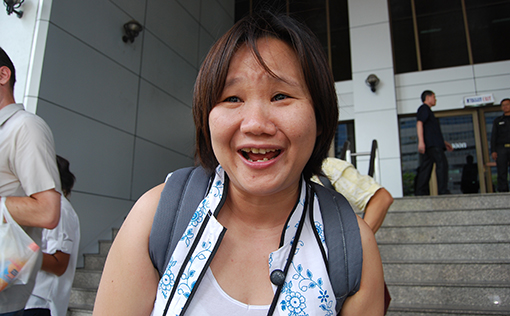 Director of Prachatai website, Chiranuch Premchaiporn, was at a loss for words as the delivery of verdict was postponed amidst heavy speculations that she would have been convicted on Monday for being an intermediary liability which involves hosting ten comments posted by internet users deemed to be Lese Majeste, defamatory to the Thai King.
Judge Nittaya Yaemsri announced the delay to 30 May 2012 citing that the court needed more time to study all the documents.
Charged under the Computer Crime Act enacted in 2007, Chiranuch's case had drawn international interest for being the first case being trailed under the act. About 50 people from various local and foreign NGOs, media and embassy representatives were present at the court in anticipation of the verdict. Before court proceedings, Chiranuch was cheery and optimistic even though she was only "1 percent" confident of a positive outcome, and prepared for the worse.
"I do not know what to say or feel," said Chiranuch, after being told about the delay, looking slightly confused. She had not expected a postponement.
"I cannot say that I'm glad. It's not like the last day of the trial," she added, where a verdict would have given her a sense of relieve and finality.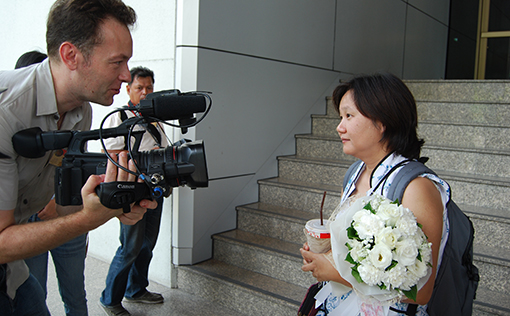 "Perhaps it is a good sign, that they need more time to understand the case better. I think that the judge they [sic] want to make the decision carefully and righteously."
The delay in the verdict has actually prolonged the climate of fear where no proper guidelines were provided in Section 15 which states that 'any service provider intentionally supporting or consenting to an offence under Section 14 within a computer system under their control shall be subject to the same penalty as that imposed upon a person committing an offence under Section 14'.
Arthit Suriyawongkul of the Thai Netizens Network pointed out that the provisions in Section 15 of the Computer Crime Act may be interpreted as measures taken by the computer to monitor the system through codes and not by human. As with the case of Chiranuch, she had taken all possible measures to remove the said defamatory comments.
Although not directly charged under the Penal Code of Section 112 which is Lese Majeste, Chiranuch still faces the possibility of a maximum of 20 years sentence if convicted.
Media Defence Lawyer, Sinfah Tunsarawuth claimed that the Ministy of Information and Communication Technology (MICT) had not issued any regulation or guidelines for Internet Service Providers (ISPs) to comply with to avoid being seen as intentionally supporting or consenting to the commission of crime under the Computer Crime Act.
Chiranuch was first arrested on 6 March 2009 for the 10 defamatory postings found on the Prachatai website. Prosecutors filed a lawsuit against Chiranuch with the Bangkok Criminal Court on 31 March 2010. She is still currently on bail.
Two other cases in relation to the Computer Crime Act and Lese Majeste were promptly acted upon with one man being convicted of 13 years in prison. He had chosen not appeal on verdict but instead hoping for a royal pardon. The other case involved an elderly man charged for sending Lese Majerste text messages over a cell phone belonging to him.
According to reliable sources, the palace intended to solve the cases in a positive manner. However, the outcome of the past two cases still did not reflect the king's wishes which unavoidably cast a shadow of doubt over an authority that supersedes the king.
"I am glad that I am being given a much fairer trail, and that I was given a chance to present what I wanted to say."
"Unlike the other cases, they were frequently interrupted and denied to present their case in full," Chiranuch added.
Chiranuch also apologized to her friends and fans from all over the world for the sleepless nights heading towards the supposed day of verdict. The night before, she had emailed all her friends to thank them for their support.
"I am sorry that they will have to be sleepless again in another month," she said.
The prosecution of Chiranuch has become a cause celebre. Last year she was one of three winners of the Courage in Journalism award given by the International Women's Media Foundation, and also one of 48 global writers given grants under a Human Rights Watch program for their commitment to free expression.