Belinda Chee is the new ambassador of Fisher-Price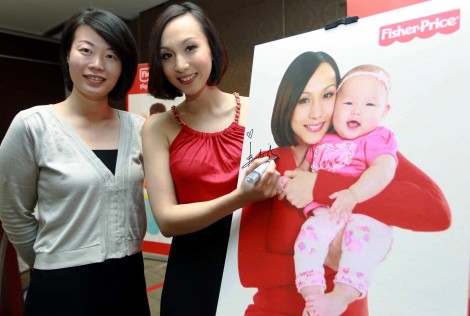 Fisher-Price, a common household name for infant and toddler toys and products, is proud to welcome Belinda Chee, a rising multi-talented artist, as the ambassador to the Fisher-Price brand in Malaysia.
Belinda Chee is the first local celebrity to join Fisher-Price, a brand known for its innovative toys and creative methods of building the minds of children from new born to preschoolers.
Speaking of her new opportunity at an exclusive media event held recently at the Empire Hotel Subang in Subang Jaya, Belinda shares, "I am really excited to be part of the Friends of Fisher-Price.
"I have been a fan of Fisher-Price even before I had Danielle. I just love how their products are not only fun and colorful but at the same time encourages the development of children."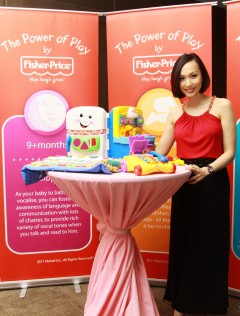 When asked why she chose Fisher-Price, she commented "it was not difficult for me, when I saw how Danielle was enjoying herself, especially with the Kick 'N Play Piano, I realized that the brand truly has a child's interest at heart."
With a localized ad campaign in play, Wong Lai Kwan, Brand Manager Mattel Southeast Asia says that this endorsement accentuates Fisher Price's values to continuously provide innovative, durable and safe products to further support the environment in which children can grow, learn, and get the best possible start in their lives.
Considering her charm, bubbly, sexy and energetic appeal; the 30-year-old forayed into the entertainment world as a television host for a popular TV show called 8TV Quickie; and since then, she has landed numerous gigs as an advertisement talent, actress, emcee and model representing many consumer brand giants throughout the nation.
 Belinda will actively endorse Mattel Fisher-Price via a multimedia campaign which will kick-start in May; featuring in editorial and advertising, and showcasing the brand to the public at promotional and marketing events.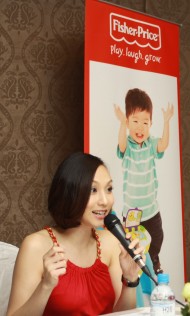 Belinda further shares that she looks forward to being part of Fisher-Price, a brand globally known for its consistency and innovation in making childhood special for the future generation of kids.
 For further information on future products, events and activities kindly contact [email protected].