Firefighters pray for protection
Hosted by the Selangor state, Malaysian firefighters of Hindu faith together with their families gathered on early Saturday morning at the Sree Selva Vinayagar Temple, Klang to seek Lord Ganesha's blessings for their safety and protection while on duty.
The family members of firefighters were proud to be part of one of world's  most noble career says deputy senior commissioner Othman Abdullah, director of Jabatan Bomba dan Penyelamat Selangor who officiated the gathering.
"In countries like Japan and Germany firefighters are respected for the great task carried out for humanity when others are in chaotic and dangerous situations," he further added.
Though there are only 225 Indian firefighters out of some 12,000 nationwide, we gather here to seek God's blessing for their safety while taking opportunity to get to know each other said chairperson of Majlis Perhimpunan Pegawai-Pegawai Bomba India Malaysia Murugiah Muthusamy.
This is the seventh year such a prayer was conducted in conjunction of International Firefighters Day which falls on 4th May each year.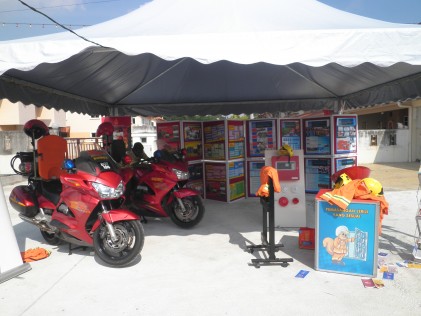 When asked by Citizen Journalist Malaysia (CJMY) as to why the participation of Indians in the department were very low, Othman Abdullah replied that department receives many applications as there isn't any quota and those selected are based purely on merit.
The daylong event included a variety of activities like colouring contest for children, exhibitions, games, a Fire Safety talk, demonstrations  and special prayer session.
The department is inviting the public to join them to create more awareness while encouraging school children to take part in Kelab Kebakaran Kanak-Kanak Bomba.
More information: Jabatan Bomba Penyelamat Malaysia.