Montfort Boys Town musical splendour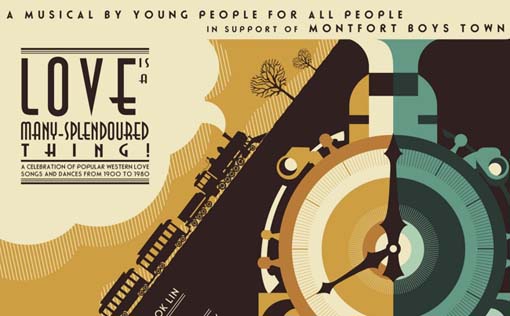 Nostalgic thoughts of sitting in the theatre laughing and weeping with Willam Holden and Jennifer Jones come to mind as news comes that 'Love Is A Many Splendoured Thing' will be staged at the PJ Civic Centre in Jalan Yong Shook Lin from 13 to 15 July 2012.
This time round though it will not be on the silver screen but performed live by young talents mainly from Sunway College. Although generally known as LIAMST, however, this is not an adaptation of the original film.
The musical extravaganza will set your heart a flutter with lovely songs from the 1900 to 1980 which are not only favourites of the baby boomer generation but also familiar to generations X and Y who grew up hearing and watching the older generation sing and dance to these songs.
Much effort has been put into this all time classic musical with a tapestry woven from 132 songs in six segments dealing with the splendours of love to the works of the five greatest performers of the last century.
The presentation will be supported throughout by a running video narrative. The audience will be invited to board The LIAMST Train which begins its journey in 1900 and runs along a time-lined track. The journey will end in 1980.
The presentation will run for 150 minutes with a half-hour intermission during which the audience can participate in a sing-along session if they choose to remain in the auditorium.
Presented by 16 singer-performers, 8 off-stage singers, 24 dancers and 10 musicians it will be supported by a crew of some 20 persons. It is being managed by a team of about 20.
Tickets will not be sold but will be given to caring and generous donors.
A donation of a minimum RM100 will avail you of a 'platinum' seat, RM 70 a 'gold' seat, RM50 a 'silver' seat and RM30 a 'bronze' one. All donations go to Montfort Boys Town or Girls Centre in support of underprivileged youth, and qualify for tax exempt receipts.
It is fervently hoped that not only individuals will take up these seats in the coming days but companies and corporations too will take them up in bulk as part of their CSR programme.
Monfort Boys Town is the realization of a dream of four Brothers to set up a home for underprivileged boys. It was established fifty two years ago at an abandoned rubber estate located at Batu Tiga, Selangor, Malaysia.
Today it also has a centre for girls too and can proudly lay claim to having aided thousands of children in its 53 years of existence.
Show times:
Performances start on Friday 13th July at 8:00pm to 11:00pm on Opening Night.
Saturday 14th July at 7:00pm to 10:00pm, and on
Sunday 15th July, a matinee at 1:00pm to 4:00pm, and the closing show from 6:00pm to 9:00pm.
For further enquiries, please contact: :
Kingsley Row (012-308-0612/ [email protected])
Ivan Lim (013-479-3192/[email protected]yahoo.com) or
Chin Kar Yern (012-371-3280/[email protected]com)