Cycling home via the Silk Road
5 months of bicycling have taken 3 Iranians across  India, Bangladesh, Thailand, Malaysia,  and Indonesia.  They are now back in Malaysia.
Citizen Journalists Malaysia (CJMY)  met up with the 3 of them at Tasik Titiwangsa, Jalan Tun Razak, Kuala Lumpur on May 26, 2012 during their daily morning ride.
Fareed who is very fluent in English appeared to be the spokesman for the group. He said "We love travelling by bicycles as we get to see a lot of things which cannot be seen when travelling by other means. We get to talk to people and see all the small things like people's clothing and their culture in a natural environment"
Now the 3 of them are planning to go back to Iran by taking the Silk Road, bicycling through Cambodia, Thailand, Laos, Vietnam, Xinjiang in China.
From China they will visit the Central Asia countries, namely Kyrgyzstan, Uzbekistan, Kazakhstan, Turkmenistan, Azerbaijan and finally back to Iran, an ardous long journey of 7 to 8 months.  Due to difficulties in obtaining a visa to Pakistan, they have no choice but to skip that country.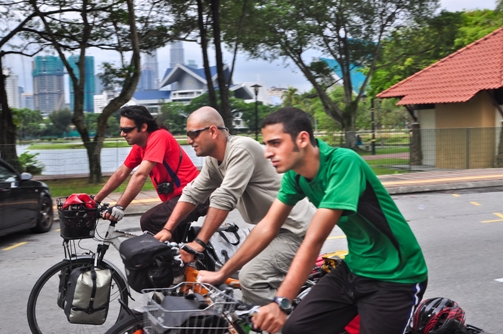 L to R: Hamidas 34, Fareed 33 and Adibi 23.  When bicycling around they always wear the colours of their national flag which is red, white and green.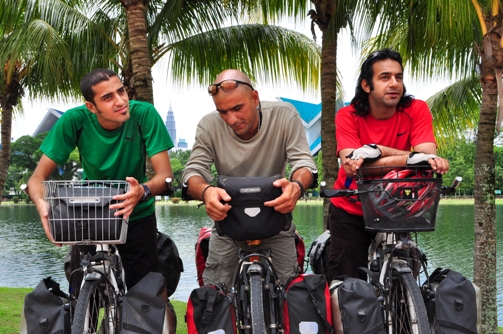 L to R: Adibi, Fareed and Hamidas on their fully equipped bicycles.
They had earlier in April, bicycled from Alor Setar to Johore Bahru, stopping at Ipoh, Kuala Lumpur and Melaka town.  According to Fareed they are most impressed with the natural beauty of Langkawi Islands and Putrajaya, particularly the metallic structures of  Masjid Mirzan.  They have also taken a liking for nasi goreng USA and local fruits especially jackfruit and durians. However, they prefer to cook during their journey.  In the morning they normally have coffee, some sweets and fruits.  During the day time, they eat mainly biscuits and bread. When they stop for the night they do some serious cooking.
Aidibi, who does most of the cooking was kind enough to show off his cooking utensils and other paraphernalia which are kept in the pouches at the front and back wheels of their bicycle.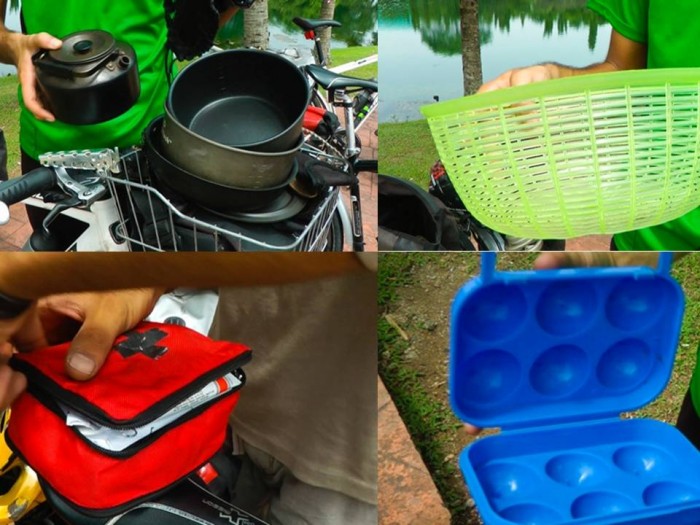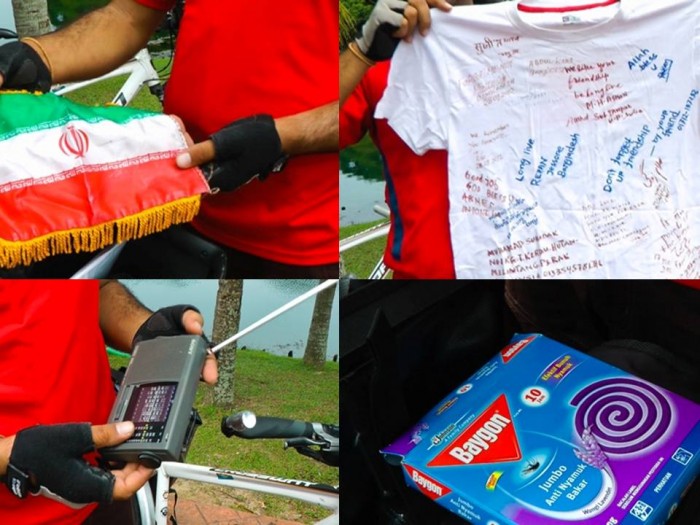 In general they have found the countries which they have bicycled through to be relatively safe and have not had any serious setbacks or dangerous encounters, other than punctured tyres and minor road accidents.
Hamidas 34 who is the eldest amongst the 3, is a professional photographer. He says  "This is the first time I have tasted jackfuit, durian and ice lemon tea."  However, he misses his Iranian bread which is his daily staple back home.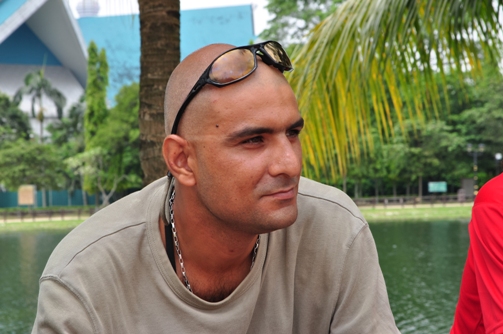 On his experiences with food, Fareed has this to say  " When we arrive at a new country we love to try  some of the more traditional local food. We like the vegetarian curries in India.  In Bangladesh they have the most delicious sweets there. But wee find the spices and raw food in Thailand not to our liking. "
Fareed is very philosophical about life.  He said this quite a few times during our conversation,  " Life is always beautiful if you see beauty in everything."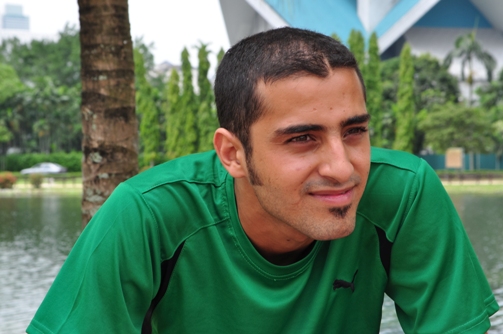 Aidibi who is the youngest amongst the 3 added that he has learnt a lot from this journey so far.  He spoke in Iranian " All the people I have met on this journey have become a part of my life"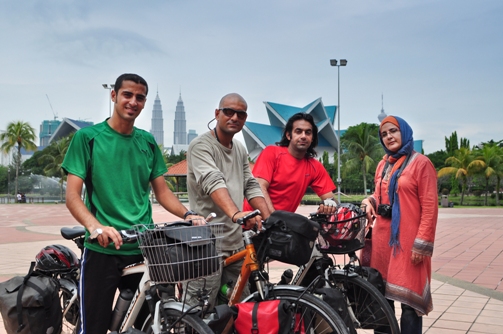 The three cyclists posing with Ms Simin, an Iranian journalist who so kindly acted as our translator.