Unemployment Insurance for Malaysian workers soon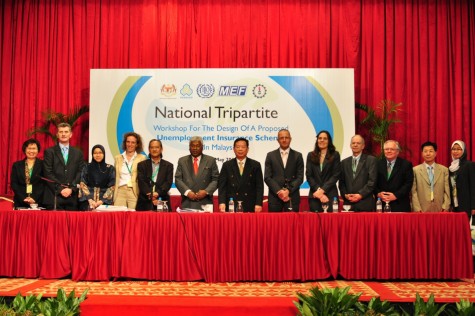 Workshop proposed the establishment of a retrenchment Insurance (Unemployment Insurance Scheme) was held at the PWTC. The workshop was held in collaboration with the International Labour Organisation (ILO), Social Security Organisation (SOCSO), Malaysian Trades Union Congress (MTUC) and Malaysian Employers Federation (MEF).
The workshop was attended by more than 300 participants representing various parties, companies, organizations, unions, government departments, academics, and consultants from the ILO.
The current safety net system focuses on retrenchment benefit for workers laid off due to economic circumstances. Multiple problems have been encountered with this system.
Businesses have closed without meeting retrenchment obligations. In the case of insolvency, retrenchment benefit claims (other than outstanding wages) are not positioned advantageously for access to the proceeds from liquidation of the failed firm's assets.
The past crisis revealed the serious limitations of the exiting social protection system and the retrenchment benefits, to guarantee basic income protection and address employability of those workers who lose their jobs and new-entrants to the labour market.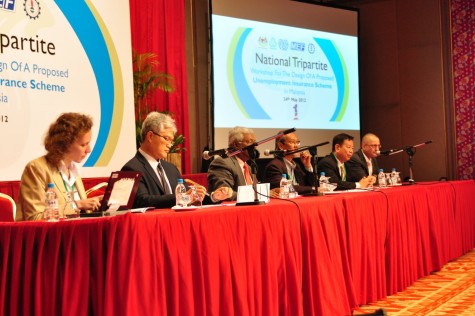 As part of the policy measures for intensifying human capital development, th e2010 New Economic Model (NEM) includes various policy measures that will contribute to increased flexibility in hiring and firing workers.
To mitigate the social and financial impact on retrenched workers the NEM recommends ' enhancing the workers safety net through the introduction of 'unemployment insurance'' which will integrate employment services as well as upskilling and retraining programmes.
The idea of establishing a comprehensive Unemployment Insurance (UI) emerges from evidence showing that where UI cash benefits are provided to unemployed men and women and where employment services are made available, the unemployed and their families are more effectively and efficiently protected against poverty, and at the same time are made; likely to fast return to employment
Unemployment Insurance in Malaysia will contribute to the following policy initiatives:
To address the structural imbalance between labour supply and demand by helping streamline job placement services and providing updated labour market information;
To review key economic and sectorial indicators targeting at the impact on unemployment of economic growth, inflation rate and government financial position;
To help cushion the adjustment costs in the labour market;
To create an efficient and flexible labour market in terms of hiring and firing, and enabling workers to quickly find new jobs which matter their skills;
To overcome protection limitations inherited from the current system in place (Retrenchment Benefits) under the Employment Act 1955;
To reduce long-term unemployment by improving job search mechanism s and placement services of public and private employment agencies ; and
To promote vocational training, thereby enhancing up-skilling and re-skilling to improve the quality of the work force and strengthen firm competitiveness.