Kampar businessman wins Fairlady in lucky draw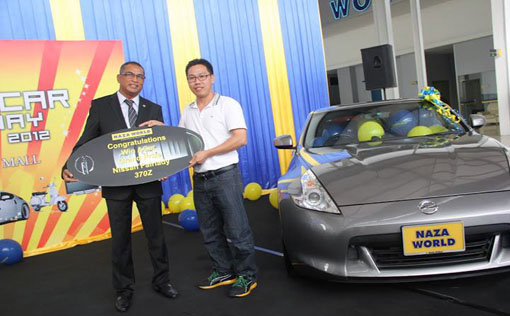 Malaysia's leading automobile company, NAZA World rewarded its loyal customers with lucky draw prizes for a "Win A Car" contest in a lucky draw and prize presentation ceremony held at NAZA Automall in Petaling Jaya on June 6, 2012.
Kampar businessman Yong Wai Choon, 40, was on cloud nine and jumping with joy when his name was drawn from a pool of NAZA World customers as the grand prize winner of a Nissan Fairlady 370Z worth RM280,000
Present at the ceremony was corporate affairs director, NAZA Group of Companies Zakaria Ismail,  who drew out the lucky winners and presented the prizes. Also present was  vice president of Four Wheels Division Maruan Mohd Said.
In congratulating the winners, Maruan said: "This is our special way of thanking our loyal customers and we are very grateful for their fervent support to NAZA World."
"As for this year, we have increased the lucky draw prizes to 12 to reward more NAZA World customers for their loyal patronage."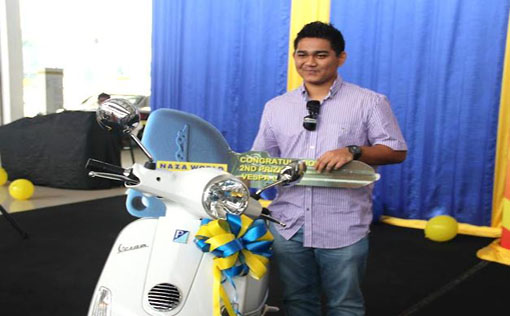 Yong was one of over 1,000 NAZA World customers who were in the running to win the grand prize of the sports car, known as Fairlady Z. The other prizes included a Vespa LX 150, five units of 32" Sony Bravia LCD television, three units of Xbox 360 Kinect and two units of Sony Home Theatre.
They had purchased a car at NAZA World showrooms during the "Win A Car" contest period from July 9 to December 31 last year which entitled them to participate in the lucky draw contest after they had answered correctly three questions in the entry form – When was NAZA established, who was the founder of NAZA Group and How many NAZA World branches.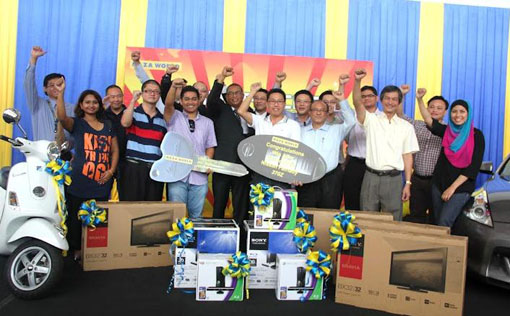 "Yes, I am very excited and very happy. This is absolutely unbelievable! It's like a dream," said an excited Yong who bought an Alpha 2.4 at the NAZA World in Klang last October and participated in the contest.
He said he has not decided what to do with the unexpected gift  but may consider driving the new car and gives his "old" car to his wife.
"I want to say a big thank you to NAZA World for giving me this great opportunity and I would surely recommend NAZA World and its dealers to all my friends and relatives in the future.
Faridah Binti Ramli, 49, from Shah Alam won herself a stylish yet classic Italian Iconic Vespa LX 150. She was not at the ceremony but her son was present to collect the prize on her behalf.