Taylor's graphic design student comes up roses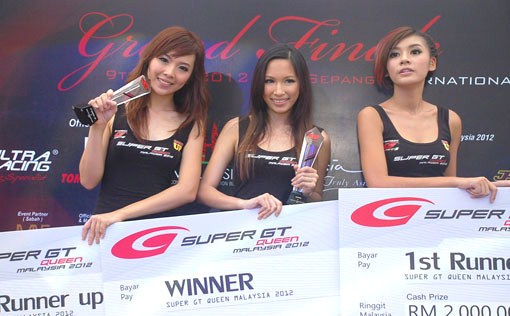 Taylor's University Lakeside Campus graphic design undergraduate Julie Tan was adjudged winner of Super GT Queen Malaysia 2012 during the grand finals of the search competition held at Sepang International Circuit on June 9, 2012.
The 21-year old Julie Tan from Kuala Lumpur beat off tough competition from eleven other finalists to win the coveted Super GT Queen Malaysia title to represent the country in Super GT 2013 race  in Japan next year.
"I am so happy to win the title. Honestly at first I was quite nervous but then I slowly built up my confidence after the self-introductory public speaking which I believe had impressed the judges," said Julie Tan.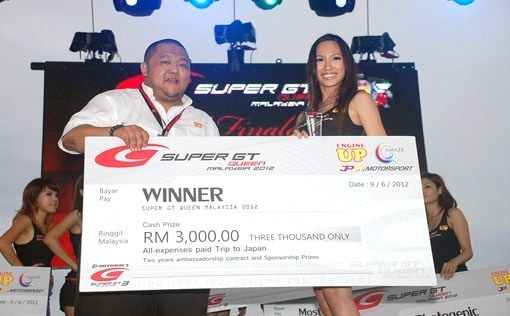 "When I signed up for the audition in the initial stage, I was confident of making it to the finals to win the title and my Japanese actually help.
They are sending a winner to Japan and if the winner can speak Japanese, it's easier for them," added Julie who speaks Japanese fluently.
She claimed her sponsorship prizes worth a total of RM60,000 which comprised of RM3,000 cash, an all-expense paid trip to Japan, a trophy, two years ambassadorship contract with Amaze Communications and Modeling and other prizes worth RM10,000
First runner-up was Inti College Subang Jaya student Cookies Yap, 19, who received RM2,000 cash prize and one year ambassadorship contract and also walked away with the Miss Engine Up Popularity subsidiary title.
Third place went to Mico Lee, 23, a former marketing manager and now freelance model who received RM1,000 cash prize and one year ambassadorship contract.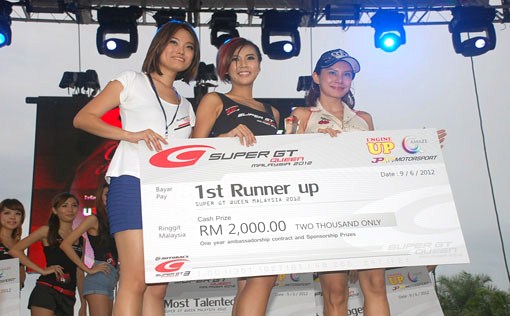 Five subsidiary titles were also awarded with cash prizes worth between RM300 to RM860.
For Julie Tan, the win added one more title to the growing list of titles and awards she won in several beauty contests that she competed since last September.
She was the winner of Miss V-Class Motorsport 2011/2012, first runner-up of Rest Forest Miss Oriental Princess 2011 and second runner-up of OMG! Covershot Girl 2012 and Hypertune GT Model Search 2011.
In the talent performance she played the guitar and sang the song "Goodbye Days" by YUI and then danced her way around the stage singing Avril Lavigne's Sk8ter Boi to the delight of the capacity crowd.
"I think my performance wasn't good enough and my fingers were a bit off strumming the guitar but to me talent is not everything because you have to learn how to communicate with people. Talent doesn't communicate people, it entertains people.
"Communication skills are really important. I believe some of the contestants really have the potential but they can't communicate or express themselves well so I think they should improve themselves on that.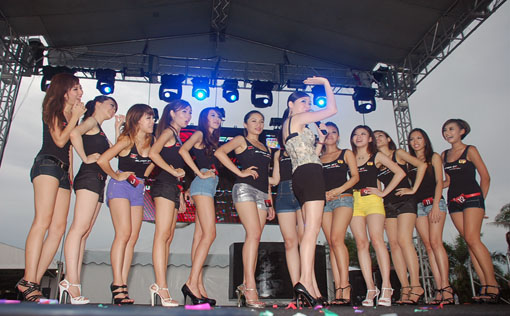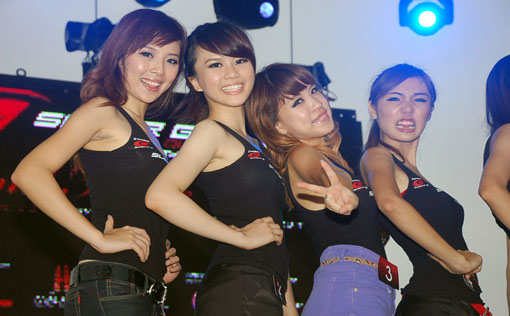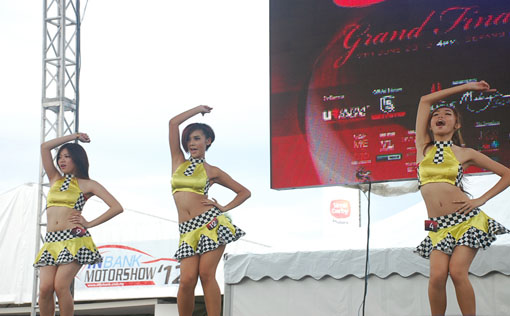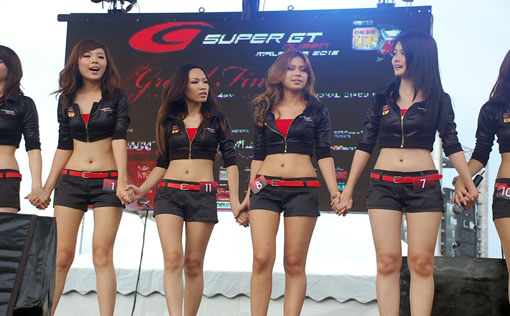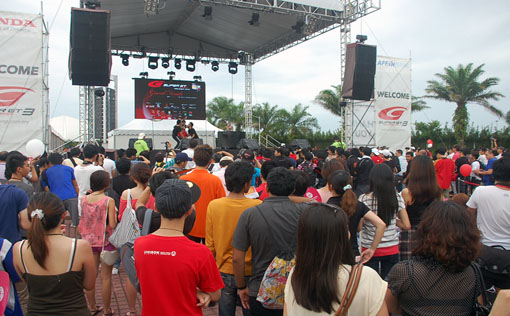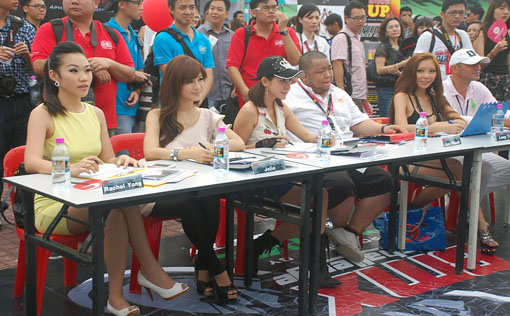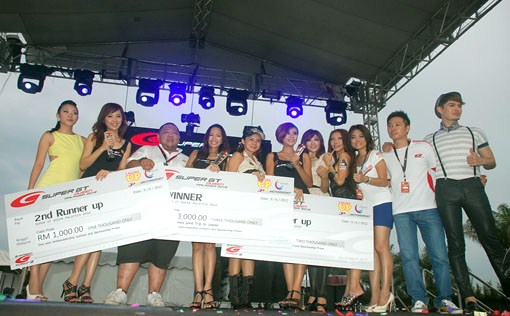 Julie Tan said the trainings were very enriching and she made a lot of wonderful friends.
"I improved on my bad habits and attitudes and I learnt to control my temper. Kenji [trainer] actually told me, and I believe so, that sometimes I should take three steps back to look at myself because sometimes you don't realise it but now I actually do realise so I change along the way and really improve myself."
So how is she going to spend her RM3,000 cash winning?
"I just bought myself a Bvlgari handbag and purse so this one has to be put into the bank," said Julia who planned to save enough money to enroll for a two-year hair and make-up course in Japan.
"We as the organising team are happy to have Julie Tan to be our winner," said Tina Fong, project manager of Amaze Communications and Modelling, the event organizer for Super GT Queen Malaysia Search 2012.
"She is very committed to all the trainings and activities that we had been arranged for the girls and she never missed any of them. In fact she sacrificed a lot for this competition and even skipped her exam just for the rehearsal.
"She has her confidence and trust in achieving her big dreams. We are proud of her."
The atmosphere throughout the competition was electrifying as the crowd roared with excitement when their favourite girls took to the stage with confidence and charmed them with their sensational performances.
Each of the girls did a self-introduction in front of the crowd and the panel of judges. Then in the talent performance, each one of them showed off their unique abilities in various talents such as singing, dancing, playing musical instrument, performing cheerleading stunts or mask-changing.
Emceeing the show were Joanna Kwan and Amaze International Model Search 2011 winner Sheena Liam who worked the crowd well.
The judges who included model, actress and TV host Lavin Seow and former Miss Malaysia finalist and model Leng Yein had a hard time selecting the winner as all the 12 finalists did extremely well. Eventually they felt Julie was the better of all, naming her the overall winner.
Super GT Queen Malaysia Search 2012 Results
Winner : Julie Tan, 21
1st runner-up  : Cookies Yap, 19
2nd runner-up : Mico Lee, 23
Subsidiary Titles
TNT Most Body Beautiful : Cath Lim, 20
Most Photogenic : Pauline Koo, 21
Most Congeniality : Lily Kon, 20
Most Talented : Erica Chan, 17
Miss Engine Up Popularity : Cookies Yap, 19