Court hearing for 78 Orang Asli CBT legal suit postponed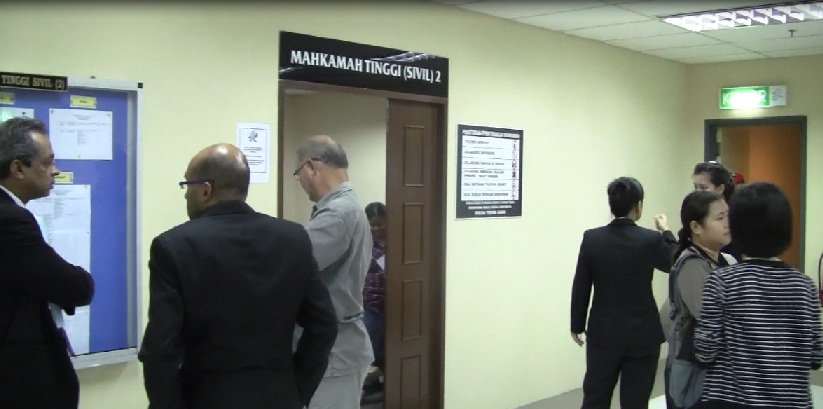 The hearing for a civil suit this morning, brought by 78 Orang Asli against Kanawagi A/L Seperumaniam and 3 others was postponed to tomorrow by the Johor Bahru High Court, here.
Both the plaintiff and defence counsels were summoned to the High Court Judge, Teo Say Eng's chamber before the commencement of the hearing which was scheduled at 9.30 this morning.
After about half an hour, those present at the courtroom were informed that case has been postponed to tomorrow morning.
When asked by reporters, Christopher Ling, the plaintiff counsel said, the High Court Judge has raised the issue of whether there is any objection from the counsels representing the plaintiffs and defendants for him (judge) to hear the case since he was involved in the early stage of the related case as the senior federal counsel.
He then asked the judge to allow the plaintiff counsels to study the raised issue and to inform the court of its decision by tomorrow morning.
The judge agreed and postponed the hearing till tomorrow morning.
Meanwhile, defence counsel Naraji told reporters that case before the court is the question of who should be named as the new trustees of the RM22 million trust fund (compensated sum) to replaced two of its member who have died and another who has resigned in the court appointed four trustee members and not about any misappropriation of trust fund.
Also present in court is the senior federal counsel who is watching-in-brief for the Jabatan Hal Ehwal Orang Asli (JHEOA).
Some sixty Orang Asli were present in and outside the courtroom including Saling Bin Lau Bee Chiang who is one of the 78 plaintiffs who filed the legal suit against the trustee members.
In 1995, the Johor Bahru High Court ruled in favour of the plaintiffs from the three affected Orang Asli villages in Linggui, Kota Tinggi and ordered the state government to compensate the affected plaintiffs a sum of RM26.5 million for the loss of their traditional forest land.
The forest land was used for the construction of a water dam to supply water to Singapore.