Reports lodged against Sarawak Energy for unlawful works at Baram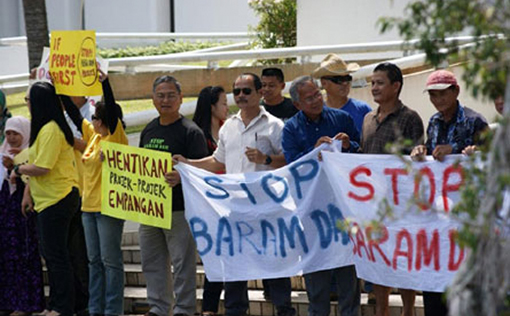 Two police reports has been lodged against Sarawak Energy Berhad (SEB) by a villager from Long Kesseh, Upper Baram and Save Sarawak's Rivers Network (SAVE Rivers) for illegal trespassing on Long Kesseh's native customary land and unlawfully starting works on the proposed Baram Dam.
The first report was lodged by Ding Ngau at the Miri Central Police Station on the May 24, 2012, who complained about an intrusion into the family's land by a group of workers  who were drilling the ground.
"I questioned the workers but I was totally ignored. That is why I made this police report and request the police and relevant authority to take action," said Ding.
The second report was made by chairperson of SAVE Rivers Peter Kallang on June 8, 2012 also at the Miri Central Police Station.
Peter together with representatives from Long Na'ah, Long Anap, Long Liam, Long Laput, Long Kesseh, Long San, Long Tungan and other villagers from Baram decided to investigate the tent which has been erected at KM 8 on Samling's logging road, not far from Samling's logging camp at KM 10.
"We decided to stop and asked the people at the tent, and they said that they were employees of SEB doing geological studies for the proposed Baram Dam," explained Peter.
In view of so much opposition to the dam, Peter said that the action of SEB starting to conduct geological studies is unlawful and done with complete disregard for the people of Baram.
The Baram villagers have been campaigning against the dams with various public demonstrations, signature campaigns, erecting banners along the banks of the Baram river, sending post cards, sending petitions to the prime minister, deputy prime minister, Sarawak chief minister and the chief executive officer of SEB.
Just last week SAVE Rivers collaborated in organising a prayer event at the dam site  and a dialogue session at Long Na'ah. Both the dialogue and prayer session received an overwhelming support.