Make Najib opposition leader says Anwar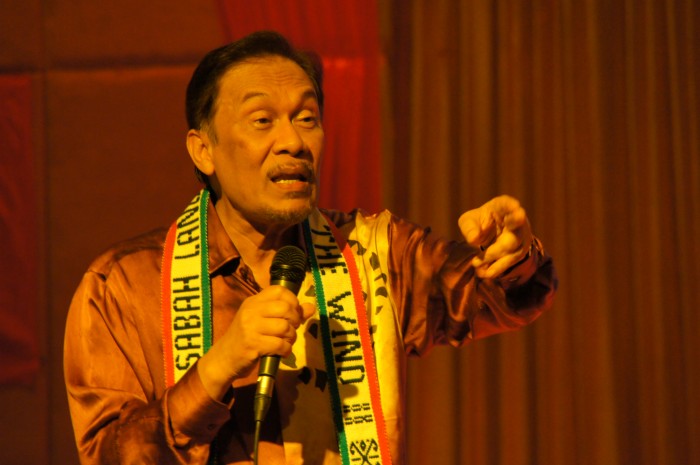 Opposition leader Anwar Ibrahim called on Malaysians to make current prime minister Najib Abdul Razak the next opposition leader by changing the current BN government in the next general elections.
Anwar said this during a fund raiser dinner organized by PKR Sabah at Asia City Convention Centre, Kota Kinabalu.
"This BN government is so condescending that it has no respect for individual citizen," said Anwar.
He said the need to change has also become a question of dignity just like the Arabs reject autocratic rulers and regimes.
Anwar said Pakatan would not want any state to be cheated or felt cheated in Malaysia.
He said Pakatan government is willing to set up Royal Commission of Inquiry (RCI) in every state in Malaysia.
He called on Sabahans to make Sabah a catalyst for change by seizing the defining moments to help themselves as not always such opportunity could easily be of avail to them.
CJMY took the opportunity to gauge the preparation of the leaders for the upcoming 1th general election.
When PKR Kota Kinabalu division chief, Christina Liew was asked if she would be standing in the Luyang state constituency in which she lost narrowly to SAPP's women leader Melanie Chia in 2008, Liew said that she would leave it for the party's leadership to make a decision as to where she would be field in the next general election.
Meanwhile, Melanie Chia said that she would be defending her seat as the Luyang state assembly representative but her party SAPP would have the final say on the matter.
SAPP president Yong Teck Lee, when asked at the dinner whether he would contest in his previous constituency of Likas, said that candidates would only be finalised on the eve of nomination day. He also denied that his party would be joining Pakatan Rakyat.
Sabah's sole state assemblyman for Sri Tanjung Jimmy Wong and Kota Kinabalu member of parliament Hiew King Cheu were frank about their intentions to re-contest their seats.
Hiew said, "The understanding reached in PR is that the incumbent would get to defend their seat."
Despite some long standing differences with SAPP, Wong said,"We are willing to work together."