A walk about Raub durian orchard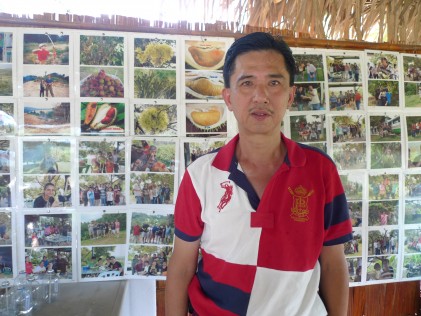 Durians – The king of fruits, a light green, spiky, melon-like fruit having a delicate, creamy and bittersweet golden flesh with an unforgettable odour.
One either hate or love it. Those who hate it liken it to overripe cheese, rotten fish, unwashed socks or having the textured of rotten bananas.
But for the majority of people who love it endure the pungent smell to have a taste of heaven.
Citizen Journalist Malaysia (CJMY) had an opportunity to meet Eddie Yong who owns an durian orchard farm in Raub, Pahang.
He claims that the best durians comes from Raub due to its terrain and soil. He also proudly claims to have invented a contraption to open the durian fruits painlessly and with great efficiency.
He shares some tips on how to choose a durian and the various tastes of durians.
The Musang King season ends this month while other varieties of durian will be available from mid July till August. His orchard in Raub is open to public.
Interesting Facts About Durian
A single durian can weigh as much as 7 pounds (3 kilos) and grow up to 12 inches long (30 cm) and 6 inches (15 cm) in diameter
The oldest durian trees produce the highest quality durian
Durians are native to Borneo and Sumatra
Are found wild or semi-wild in Lower Burma (Myanmar) and the Malaysian peninsula
In many airports, hotels, and other public places, durian are prohibited by law
Thailand and Malaysia are among the world's top producers of durian; the two countries are also known to produce the best quality durian throughout the world
In Thailand, there are over 300 named species of durian
Durian are actually capsules in which edible parts are called arils
Durian and Mangosteen make up some of the only 1% of the world's "arillate" fruits
Durian trees grow between 27 and 40 meters (between 88 and 130 feet)
The leaves of the durian are extremely fragrant
Its flower has 3 petals with 5-lobed bell-shaped calyx that are 2 to 3 inches long
In several tropical countries such as Borneo, the husks of the durian is used to smoke meats