Fighting the Big C with optimism
One in seven people will contract cancer in his or her lifetime. Familiarly known as the Bic C, the disease is commonly looked upon with fear and sadness as many deem it as a life sentence.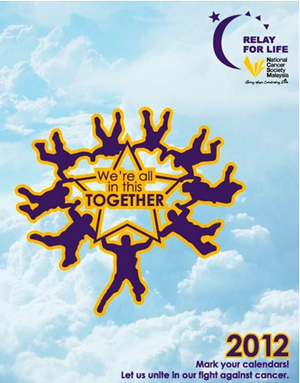 The National Cancer Society of Malaysia (NCSM) Penang, proclaimed that it would be premature to write off cancer as a life sentence because with early detection the possibility for a cure proves optimistic.
With the intention to court and reassure cancer patients and their families that the cancer-battling journey need not be solitary, NCSM Penang organised the 'Relay for Life – Fighting Cancer Together' event. Relay for Life 2012 is supported by Penang Hospice Society and the Majlis Perbandaran Pulau Pinang.
This annual event fosters camaraderie between cancer survivors, patients, together with their families and friends. It is also an opportunity to revive memories of loved ones lost to the seemingly burdensome disease.
Marking its eight year, Relay for Life 2012 will commence on June 23 and 24, 2012 at Taman Perbandaran (Penang's Youth Park).
The event, promised to be meaningful albeit the fun will stretch for 16 hours from 6pm on Saturday to 10am on Sunday bring together a variety of people from all walks to 'relay' around the tracks.
The festive atmosphere of games, music exhibition, health screenings with food and prizes to be won would be a radical overhaul for participants and patients alike.
The 16 hours 'relay' hold momentous symbolism as an on-going fight against the disease and successful recovery of patients.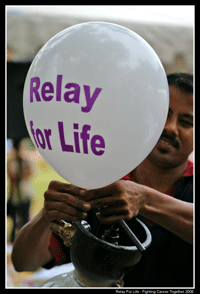 Over 150 survivors who refuse to have their spirits plummet have signed up for the event.
Cancer survivors from Kuala Lumpur, Johor, Ipoh and Taiping will ward off habitual reluctance and join in the relay to live the legitimacy of courage and bravery amongst survivors and their loved ones. This to provide a reliance that cancer can be survived.
According to vice-chairperson and pioneer of Relay for Life in Malaysia Dr T Devaraj, far from being a one-off celebration, this is a project where "Everyone can be involved. It is serious and it is fun. And it focuses on an issue that affects us all.
"Relay is both a campaign and an event, and in 'relaying' overnight at the Taman Perbandaran (Youth Park) we help remember that we are part of the on-going fight against cancer and that we journey with cancer survivors through their battle against cancer." he added.
In a press release, organsing chairperson James Lochhead,  informed that teams and individuals that signed up for the campaign, will help carry key messages about cancer to every part of Penang.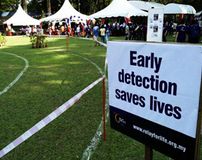 These messages include:
There are many different kinds of cancer.
The earlier we diagnose cancer, the better the chances of successful treatment. Go for regular check-ups – Early Detection and Proper Treatment Saves Lives.
Cancer (and other diseases like heart disease and diabetes) can be prevented: we can choose to live healthier lifestyles. This includes the three major principles: Don't Smoke; Exercise Regularly; and Eat a Healthy Diet.
There are thousands of cancer survivors: we are not alone if we are diagnosed with cancer. Relay celebrates survivorship and we can get inspiration and support from those brave people already fighting the disease.
The opening ceremony will be officiated by the Chief Minister of Penang, YB Lim Guan Eng at 5.30pm. He will then present a symbolic certificate to a cancer survivor. At 6.00pm, he will flagged of the first lap, which is always walked by cancer survivors and their care-givers. The CM will join in this first lap walk.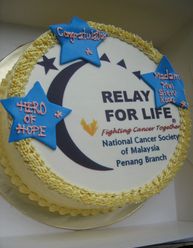 At 8.00pm, the very moving 'Luminaria' (Lighting Ceremony) will take place. Candles will be lit all round the track and everyone will be required to keep silent and stop walking.  This is to remember loved ones who have struggled and lost the fight against cancer.
For more details, kindly visit the Relay for Life website and also its Facebook or call up NCSM Penang: 04-2284140.
See you there!  Let us come together in solidarity with one another to remember, celebrate and fight back.
Note:  All pictures are taken from the Relay for Life website.