ASEAN gather for good governance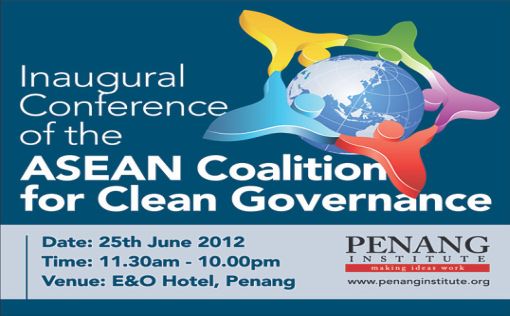 The first of its kind – not only in Malaysia but in the region – the Inaugural Conference of the ASEAN Coalition for Clean Governance – will be held in Penang on 25 June 2012 at the Eastern & Oriental Hotel.
The event is organized by the Penang Institute, the public policy think tank of the state government of Penang. One of the speakers, who will deliver the keynote address, is former Thai prime minister and opposition leader Abhisit Vejjajiva.
The other speakers include Singapore Finance Ministry's former Fiscal Policy director Donald Low; Transparency International Malaysia president Datuk Paul Low; former Bar Council president S Ambiga; former Indonesian Audit Board head Anwar Nasution; Philippines' Akbayan Party chairperson Risa Hontivero-Baraquel; Associate Professor, Peking University, China Sherry Tao Kong;  Director-general, Department of Civil Service Management, Laos, Nisith Keopanya; Deputy director of Institute of Southeast Asian Studies, Singapore, Ooi Kee Beng; and Associate Fellow, Malaysian Institute of Economic Research Din Merican.
The conference theme 'What enables clean governance in democracies? Asean perspectives' will seek to discuss the importance of clean governance, its enabling factors, how it relates to development and more importantly, how it can be applied within the ASEAN context.
H.E Abhisit Vejjajiva MP's keynote address will be on the topic 'What enables clean governance in democracies?' This will be followed by the closing remark by Penang Chief Minister Lim Guan Eng, where he will talk on the Competency, Accountability and Transparency (CAT) experience in Penang.
In a press release dated 13 June, Chief Minister Lim Guan Eng said the conference will reinforce how important it is to establish institutions for clean governance like declaring assets.
"This conference symbolises Penang's role and commitment as the forerunner of clean, good and efficient governance in Malaysia. Since 2008, our efforts in implementing open competitive tenders, publicly declaring the assets of the entire state executive council including the Chief Minister and passing the Freedom of Information Enactment have earned us praise not only from the annual Auditor-General's Reports but also from the world-famous anti-corruption watchdog, Transparency International." he said.
He said that Penang is going a step further by championing and promoting the CAT principles of Competency, Accountability and Transparency on a regional scale through this conference. Due to the increasing democratization in the ASEAN region, the demand for good and clean governance is now prioritised and heightened.
He continued, "Today, the people of ASEAN are no long content to accept governments that are dirty, corrupt and who threaten and abuse their power. Today, the people of ASEAN no longer accept governments that partake in vote-rigging and vote-buying, and who think nothing of using threats and violence against its own citizens who are merely exercising their constitutional rights."
"Greater regional collaboration in the area of clean governance is timely and necessary. However, in order to spread the practice of clean governance throughout ASEAN, merely wishing for it is not enough. We must build institutions around the principles of clean governance, such as by institutionalising open competitive tenders, full disclosure of government contracts made with the private sector, and the public declaration of assets by public office-bears such as ministers and chief ministers."