Lynas: The swinging pendulum (Part 3)
The swinging pendulum
Between January 2012 up to now, the issues surrounding Lynas is inspiring greater expectation for closure but one which lacks harmony between the government and the people.
Are Malaysians having naive expectations that the government will forsake a RM700 million plant project in lieu of its citizens' apprehension about the health hazards of this rare earth plant?
The struggle between the people and the government of the day is akin to the swinging of a pendulum.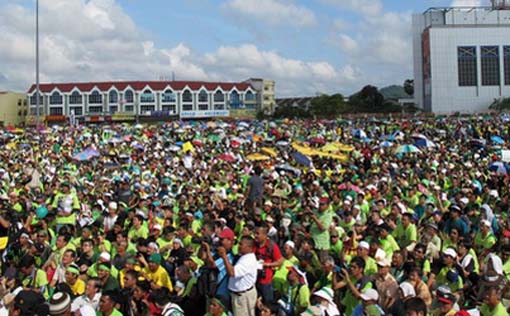 1 January 2012 – Lynas' licence application to go on public display
Lynas submitted an application for temporary operations licence which the AELB was putting up for public viewing. Anti-Lynas groups have not been happy with the said application.
1 February 2012 – Gov't okays temporary operating licence for Lynas
Lynas is given a temporary operating licence by the government to begin operations at its Gebeng plant.
2 February 2012 – Lynas licence decision to face legal challenge
A judicial review to challenge the Atomic Energy Licensing Board's decision to grant a temporary licence to Lynas for its plant in Gebeng will be filed by the Stop Lynas Coalition.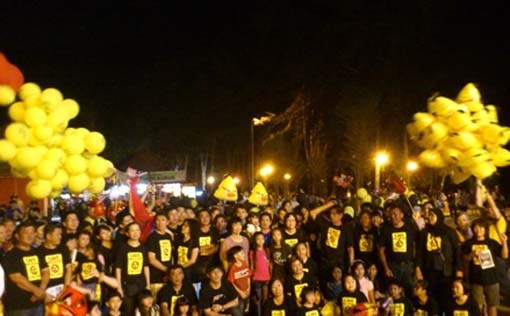 5 February 2012 – Lynas green light sparks fresh protest in Kuantan
Some 2,000 protestors gathered at Teluk Cempedak in Kuantan to protest the granting of the temporary operating licence (TOL) to Lynas for the Gebeng plant.
7 February 2012 – Bar Council questions 'express licence' for Lynas
The Bar Council questioned the hastiness in which AELB approved the temporary operating licence to Lynas, stating that it could be colluded that the public consultation process was a sham.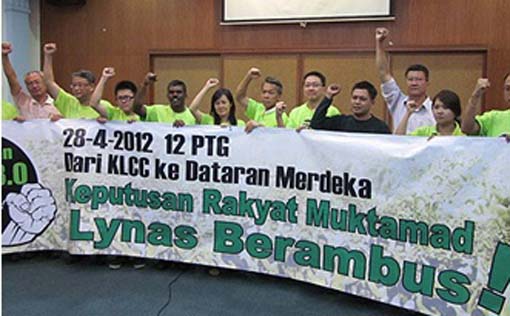 17 February 2012 – Perak radiation victims to hold Lynas solidarity rally
The Perak anti-radiation committee said a gathering will be held in Bukit Merah near the abandoned Asian Rare Earth refinery site simultaneously with the anti-Lynas rally to support Himpunan Hijau 2.0.
17 February 2012 – Residents to file for judicial review on TOL for Lynas
A group of 10 residents from Balok which is near the Lynas plant in Gebeng file for a judicial review at the Court of Appeal against this AELB's approval of a temporary operating licence for the Gebeng plant although a detailed environmental impact assessment was not made.
18 February 2012  – Anti-cyanide NGO raises funds to attend Kuantan rally
Anti-cyanide members and villagers from Bukit Koman eager to support the Himpunan Hijau 2.0 rally in Kuantan went on an online donation drive to charter buses to take them from Raub to Kuantan a journey of about 120 km to show their support.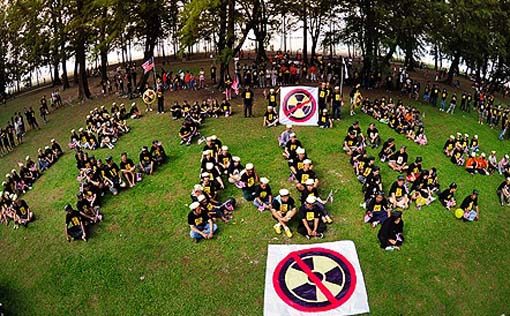 23 February 2012 – Himpunan Hijau: 4 rallies planned outside Kuantan
Other rallies to support the anti-Lynas Himpunan Hijau 2.0 rally in Kuantan, to be held concurrently at:
Maju Junction at Jalan Tunku Abdul Rahman, Kuala Lumpur, from 9.30am to noon.
Speaker's Square in Esplanade, Penang, at 6pm.
In front of the former site of the Asian Rare Earth factory in Bukit Merah, Perak, at 11am.
Tanjung Aru Beach in Kota Kinabalu, Sabah, at 4pm.
Pahang state government advises government servants to stay away from the rallies.
24 February 2012  – PKR's retreat in Kuantan, leaders to attend Hijau rally
PKR shifts its weekend retreat set to be held in Lumut to Kuantan  in Pahang in order that party leaders, including PKR de facto leader Anwar Ibrahim may attend the Himpunan Hijau 2.0 rally on the 26th.
25 February 2012 – Artistes entertain anti-Lynas supporters ahead of rally
In an unexpected show of support for the cause local artists converged at Teluk Cempedak  to entertain the crowd who were in Kuantan to part take in the anti-Lynas Himpunan Hijau 2.0 rally.
26 February 2012 – 15,000 swarm Kuantan for anti-Lynas rally
The crowd began gathering from the early morning and soon swelled to 15,000. Many from out of Kuantan were there to participate in rally held at the Kuantan Municipal field. There were huge turn outs at other places where rallies were held.  On the whole the rallies were peaceful with no untoward incidents except in Penang.
26 February 2012 – Penang anti-Lynas rally disrupted, smooth elsewhere
The solidarity rally was disrupted by a group made up of local leaders from Umno Youth and Perkasa.  Two journalists were hurt in the unfortunate incident.
28 February 2012  – Gov't raises objection to Lynas legal challenge
The 10 residents who initiated legal proceedings against the AELB for issuing a temporary operating licence to Lynas had their application halted as the Attorney General raised an objection by stating that the residents had not exhausted all avenues open to them before bringing the matter to court.
2 March 2012 – Stop Lynas or face Reformasi 2.0, PM told
Social Care Foundation chairperson Robert Phang  and  former Malaysian  Anti-Corruption Commission adviser, warned that another 'reformasi' campaign will emerge if the government proceeded to allow Lynas to operate the Gebeng plant in spite of the fact that Malaysians were strongly opposed to it.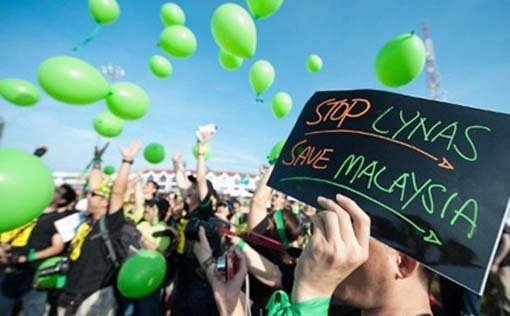 3 March 2012 – Gov't urged to divulge Lynas waste dumpsite
Stop Lynas Coalition chairperson (SLC) Andansura Rabu and Stop Lynas Save Malaysia chairperson Tan Bun Teet gave an ultimate to the government – either,  Lynas is stopped from operating in Malaysia or a nationwide campaign would be carried out to vote the government out.
Activists demanded to know where Lynas' waste from the Gebeng plant will be stored, what of the contaminated run-off from the plant and  how the 100,000 cubic metres of waste gas every hour which will pollute the air will be dealt with.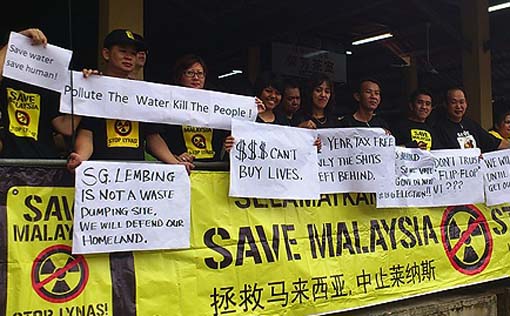 11 March 2012 – Sg Lembing folks protest Lynas dump site plan
About 300 residents from Sungei Lembing gathered at the town market to protest the proposal to dump the radioactive waste in the now defunct mine shaft in their town.  Director-general AELB whose idea it was clearly does not know how the shafts worked or the magnitude of the problems such an act will create for this town and the surrounding areas.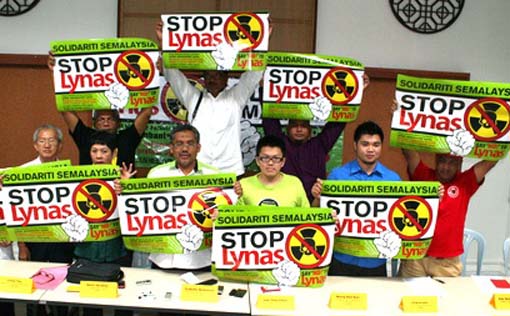 16 March 2012 – ABU to lead nationwide rally against Lynas plant
Anything but Umno (ABU) is to lead a coalition of NGOs to organise nationwide anti-Lynas rallies to counter allegations that the Lynas problem was confined to Kuantan or the Malaysian Chinese community.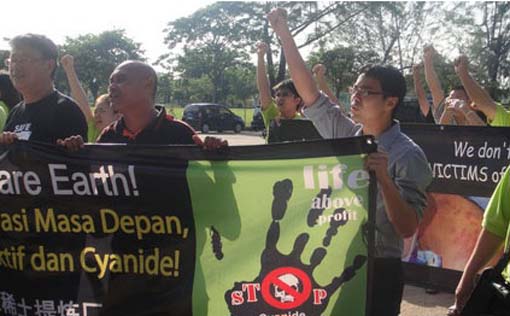 20 March 2012 – 'Lynas bringing in dangerous ore via back door'
International NGOs,  namely Basel Action Network (USA), Fronteras Comunes (Mexico), Jatam (Mining Advocacy Network, Indonesia), Occupational and Environmental health Network of India, Oxfam Solidarity Belgium, People's Health Movement (USA) and RightOnCanada (Canada) join in the clamour against Lynas operating in Gebeng.
They reckon the move to ship radioactive material to Kuantan will endanger the Malaysian people and that Lynas was taking advantage of a loophole in the Australian laws to do so.
They also said, "It is unusual for mined ores to be shipped for a journey of 5,000 km solely for processing purposes."
20 March 2012 – Court orders AELB to explain scope of Lynas licence
High Court judge Rohana Yusof in her chambers in Kuala Lumpur High Court ordered the AELB to explain the scope of a temporary operating licence (TOL) it issued to Australia's rare earths refinery plant Lynas in January.
AELB was ordered to file an affidavit of the explanation.
A date was also set to hear submissions from Lynas and the government pertaining to the preliminary objections in the legal action taken by the 10 residents from  Kuantan.
The residents, through their counsel claimed that the Temporary Opertions Licence (TOL) issued was illegal and contravened the Environment Quality Act 1974.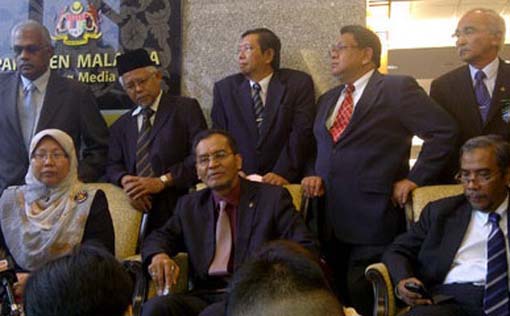 20 March 2012 – Pakatan boycotts PSC on Lynas
Opposition parliamentarians questioned the purpose of setting up the parliamentary select committee (PSC) on the Lynas plant in Gebeng when PM Najib had already stated that the outcome of the findings by the PSC will not influence the government's decision on the plant.
23 March 2012 – Onus is on gov't to prove Lynas is safe, say activists
Activists state that it is the responsibility of the government to prove that the Lynas refinery in Gebeng is safe.
30 March 2012 – Residents to lynas: Go back to Australia!
It is not hard to read that the people are fraught with fear – they are fighting the shadows of the lack of information and a mistrust for the government. One question yet remains, should the Australians find this rare earth plant unfit to be hosted in their own grounds, is Malaysia but a dumping ground?

Previous articles:
Lynas: In layman's terms (Part 1)
Lynas: A diabolical struggle (Part 2)
*****************************************************************************************
This article is a four-part series: Part-4 will be published next week.
Pictures and videos taken from Malaysiakini and CJMY archives.