MIAR seek aid in cash or kind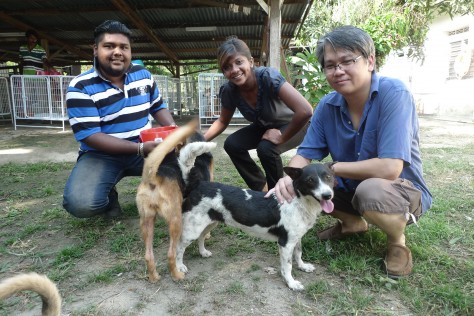 In an immediate follow-up with Malaysian Independent Animal Rescue (MIAR), Citizen Journalist Malaysia (CJMY) met with MIAR president Puspa Rani to check on the progress made since the article 'Kajang animal rescue shelter in dire need of help' was published on June 11, 2012.
We are happy to report that Angel, a bitch which was paralysed when it was picked up is doing fine and learning to walk again through tender loving care and physio therapy by MIAR.
Still lacking though are volunteers and funding. Puspa has a wish list which includes;
1. Land which can accommodate 70 dogs as the present site is not suitable and frequently affected by floods.
2.  An animal ambulance which can pick-up and send sick dogs for treatment. At the present moment, they are using their own vehicles which are sometimes stained by blood and pus oozing from the injured animals
3. Funding in cash or kind and also committed and consistent volunteers.
"MIAR has never said no to cases which desperately need their help and we would like to invite the public to come and visit our shelter and see for themselves what we had done," added Puspa.
Those who would like to donate, you can call MIAR's administrators at 012-399 2021 or visit its website donation page.