Penang's RM9mil temple to see 200,000 at consecration ceremony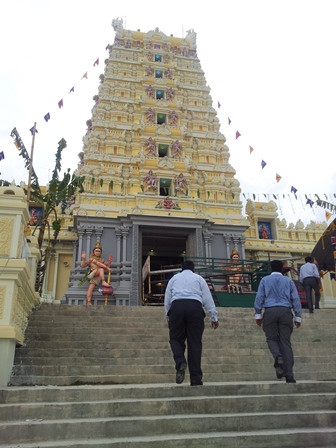 What began as a simple shrine of the Lord Murugan is now transformed to a newly constructed Arulmigu Balathandayuthani Temple or Thanneermalai Temple in Waterfall Road Penang.
Previously located at the base of the waterfall at the Penang Botanical Gardens sometime before 1782, it is today a majestic structure of fine arts taking the place of the simple unbecoming shrine.
A consecration ceremony will be held on Friday June 28, 2012 to sanctify this place of worship.
Several leaders from BN and Pakatan Rakyat including MIC president G Palanivel and other MIC leaders as well as Pakatan's Chief Minister LIm Guan Eng and his deputy Dr P Ramasamy are expected to be present for the ceremony between 10.05am and 11.05am on Friday.
Touted as the the largest Murugan temple outside India with built-up area of 23,000 sq ft, the magnificence has some 500 over steps which is almost double the Batu Caves Murugan temple in Selangor.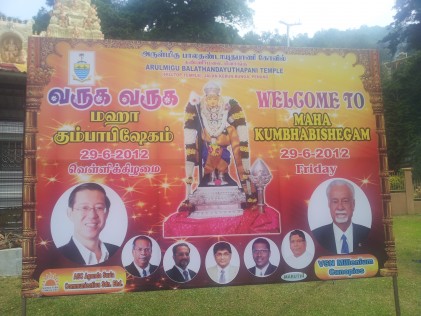 The new temple building cost RM9 million and is expecting to see some 200,000 Hindu devotees to be present during the consecration ceremony.
The main gateway is about 21.6m in height which is equivalent to a building seven-storey in height and a majestic 8.23m statue of Lord Shiva at the foot of the hill.