Lynas: A gathering storm (Part 4)
Intoxicated by the challenge to bring to halt the building of the Lynas plant in Gebeng, Malaysians are far from giving up a good fight. The trend points toward Malaysians getting less and less tolerant to the muting of their voice and opinion.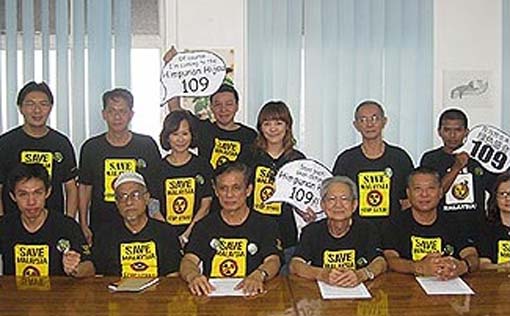 10 April 2012 – Activists decry Lynas' 'bully tactics'
Lynas threatened to take legal action and served letters of demand on activists and 45 NGOs in the on-going tussle between the government, Lynas and the Malaysian folks regarding the plant in Gebeng.
The anti-Lynas groups have said these letters only served to strengthen their resolve to get Lynas out of Malaysia.
12 April 2012 – Court rejects judicial review bid by Gebeng residents
A leave application filed by 10 residents from Gebeng for a judicial review against the Atomic Energy Licensing Board's (AELB) approval of a temporary operating licence was rejected by the High Court in Kuala Lumpur as being 'premature'.
The judge stated that the court is not the right platform to deal with the judicial review as there is an appeal pending before the Science, Technology and Innovation Minister that is to be heard on April 17.
Further she said, that a parliament select committee (PSC) was formed on March 23 to investigate the safety standards of the Lynas Advanced Materials Plant (LAMP) and that the AELB had suspended the plant's temporary operating licence (TOL) until all the contentions were disposed of.
13 April 2012 – Anti-Lynas video clip kicks off international campaign
Nicole Wong, a Malaysian student studying in the US decided to do her bit in fighting Lynas.
She spearheaded the creation of a five-minute video featuring foreigners from 54 cities and 30 countries expressing their support for the anti-Lynas movement in their native languages.
13 April 2012 – 200 gather at Dataran Shah Alam for anti-Lynas protest
Dataran Shah Alam in Selangor was the main venue for another anti-Lynas protest which was carried out nationwide after Friday prayers.
Solidariti Hijau SeMalaysia – Stop Lynas is a coalition of 23 NGOs who carried out the protests throughout the country.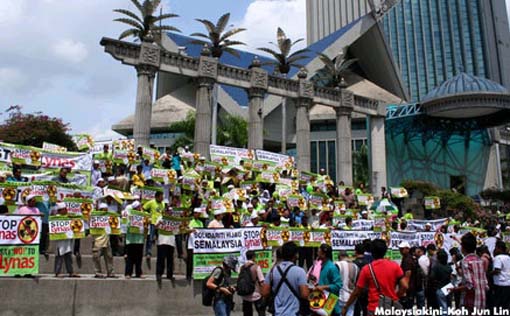 17 April 2012 – Detained in Kamunting for opposing rare earths plant
Tan Ka Kheng, an academician at a private college who is also a researcher with 'Save Malaysia Stop Lynas' has been speaking up against the Lynas plant in Gebeng.
He was detained under the Internal Security Act (ISA) for the part he played in campaigning against the rare earths plant in Bukit Merah in 1987.
He is not deterred from actively being involved in a similar campaign 25 years later.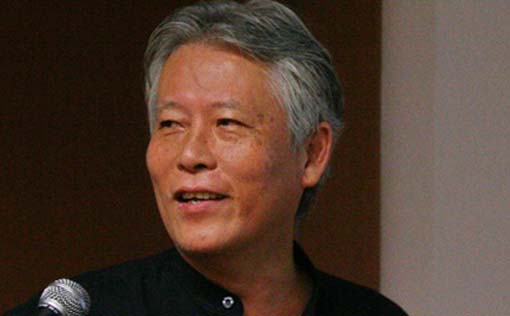 17 April 2012 – Lynas appeal hearing: Kuantan folk mount protest
Maximus Ongkili, the Minister of Science, Technology and Innovation (Mosti) heard an appeal from Kuantan residents against the Atomic Energy Licensing Board's (AELB) decision to issue a temporary operating licence (TOL) to the Lynas plant.
At the same time Kuantan residents led by Save Malaysia Stop Lynas committee chairperson Tan Bun Teet held a protest outside the Malaysian Nuclear Agency in Bangi, Selangor.
Today's appeal is critical as its outcome will determine if AELB will proceed to issue the TOL.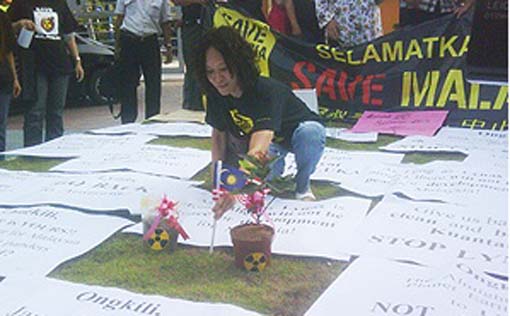 20 April 2012 – Gebeng plant tour turns out restricted, unrefined
Local and foreign press, numbering 50 were allowed to visit the Gebeng plant.
The tour however turned out to be highly unsatisfactory. They were taken on a bus, not allowed to disembark as they wished to take photographs of points of interest.
At the press conference people at the back were not able to hear what was being said in front.
Many reporters were not able to pose questions they had due to the very short time-frame. The Lynas 'we have nothing to hide' tour for the press appears to have turned out to be a farce.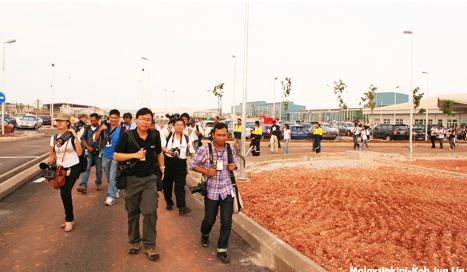 20 April 2012 – Lynas files suit against online portal and SMSL
Lynas Corporation Ltd filed a defamation suit news portal Free Malaysia Today (FMT) and Save Malaysia Stop Lynas (SMSL). Nicholas Curtis the executive chairperson of Lynas said, "Lynas has and will engage legal representation to take action against people who publish defamatory statements or misinformation about Lynas or its operations".
He also said there was a "concerted political campaign, which is based on misinformation, sabotaging the science-based regulatory process" of Malaysia.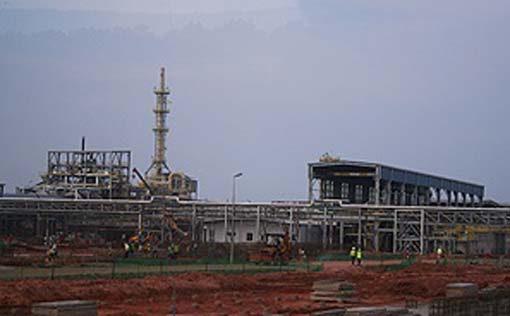 20 April 2012 – Lynas: Only 0.1 fatal cancer cases per million caused
Lynas Malaysia Sdn Bhd's radiological safety adviser Ismail Bahari compared the Ministry of Health's cancer prevalence rate of 720 cases per million to only about 0.1 fatal cancer cases per million persons that the plant in Gebeng will cause in the worst case scenario.
He said the radiological impact assessment estimates 35 cases per million was due to existing background radiation. He said the calculations are based on standards set by the set by the International Commission on Radiation Protection's (ICRP) Publication 60.
7 May 2012 – 'Lamp will not have negative impact on industrial park'
The East Coast Economic Region's chief executive officer Jebasingam Issace John said that the Lynas Advanced Materials Plant will not have a negative impact on the Malaysia-China Kuantan Industrial Park (MCKIP).
The Lynas plant is located close to the proposed 607-hectare MCKIP in Gebeng. MCKIP is expected to enhance bilateral trade between Malaysia and China. Key components of the Industrial park will include plastic, metal, electric and electronics, consumer products and renewable energy.
It is not expected that there will indeed be a sizable workforce employed at MCKIP?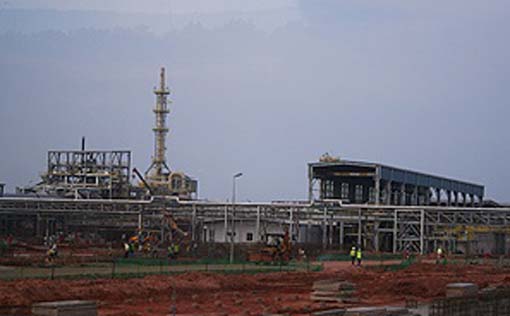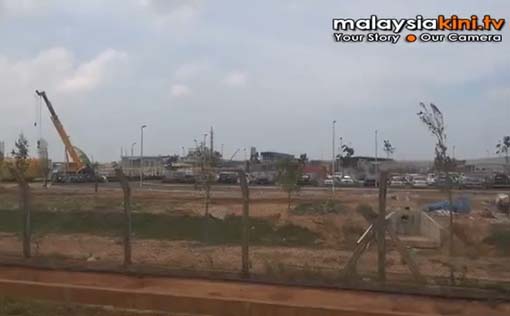 7 May 2012 – China expert: Lynas' waste recycle proposal outdated
A Cheung Kong professor of the College of Chemistry and Molecular Engineering, which is part of Peking University, Chun-Hua Yan said that the plan by Lynas to recycle radioactive waste from its rare earth refinery in Gebeng into non-hazardous commercial products is an outdated method abandoned by China.
The prominent chemist from China claimed that radioactive leakage is not the most hazardous risk of a rare earth plant.
The greater problem would be to deal with the fluorine gas produced during the fusion process.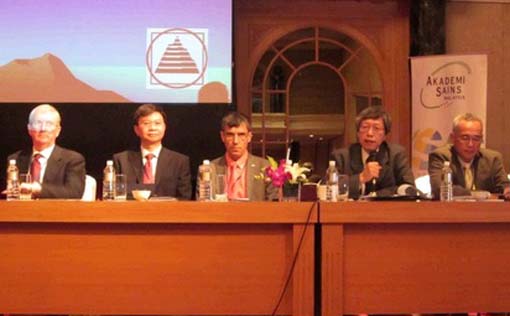 10 May 2012 – Lynas' Gebeng plant safest in the world, says PSC
After a 3-hour briefing by Lynas and an on-site visit, the chairperson of the Parliamentary Select Committee (PSC) on Lynas, Khaled Nordin said that the Lynas Advanced Materials Plant in Gebeng was a state-of -the-art facility and is the safest and most advanced rare earth processing plant in the world.
However, at a press conference held later in the day he clarified that his remark that the Lynas plant in Gebeng is 'the safest in the world' was not PSC's stance but was based on information given by Lynas!
10 May 2012 – Anti-Lynas group skips PSC, fears defamation trap
At a Parliamentary Select Committee (PSC) public hearing held at Universiti Malaysia Pahang, The Save Malaysia Stop Lynas (SMSL) coalition staged a walk out as the PSC could not guarantee legal immunity to members saying that it had no authority to protect the group legally and that the PSC was powerless to grant such a request.
Tan Boon Teet, who is the head of SMSL and who led the walkout is currently facing a defamation suit by Lynas Corporation of Australia.
Tan said the PSC is a charade and a farce if citizens' right to speak out in the national interest is undermined.
Tan also criticised PSC head Khaled Nordin for announcing that the Lynas plant is safe even before the public hearing began.
11 May 2012 – PSC chair slammed for pro-Lynas remarks
Khaled Nording the chairperson of PSC was strongly criticised by several parties, including MCA Pahang representatives, for his biased remarks made in support of Lynas instead of conducting a fair hearing.
Pahang Chinese Assembly Hall youth committee member Kok Chee Hong said the plant in Gebeng would use the same processing technology as plants in China and dispose of its wastes into a river whereas Lynas' Australian plant uses the evaporation method to dispose of its liquidated waste.
Kok, an engineer by profession, claimed that temporary operating licence was approved for Lynas despite its residue waste management plan containing several errors.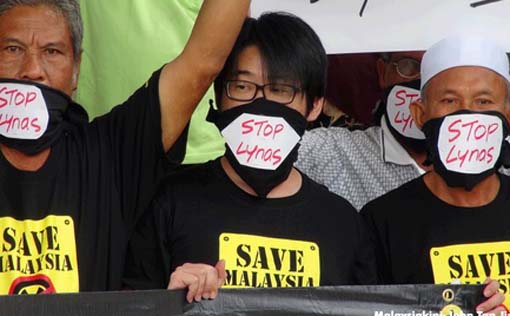 11 May 2012 – Residents steam at early end to Lynas PSC session
A group of seven residents who took leave from work to prepare their arguments against Lynas were shocked to find out that the Parliamentary Select Committee (PSC) had ended the hearing ahead of the scheduled time.
They claimed that they had fixed their appointment for 2.30 p.m. The hearing was closed at noon although it should have ended at 4.30 p.m.
16 May 2012 – MCA suspends anti-Lynas Youth leader
The outspoken Indera Mahkota division Youth leader, David Choi was suspended by the MCA disciplinary board for three years.
Amongst others, he was said to have taken part in the anti-Lynas street protest last year in Kuantan, as well as the Himpinan Hijau 3.0 rally last month in Kuala Lumpur despite objections from within the party.
It was reported in the Chinese newspapers that the Board chairperson Michael Chen said that Choi could appeal against the decision.
29 May 2012 – Lynas plant: Protestors seek right to rebut AELB
Science, Technology and Innovation Minister Maximus Ongkili was appealed to, to grant The Save Malaysia Stop Lynas (SMSL) committee the right of reply to the Atomic Energy Licensing Board (AELB)'s response in the appeal against the granting of a licence to the Lynas rare earth refinery.
SMSL chairperson Tan Bun Teet remarked , "On behalf of concerned residents of greater Kuantan, we urge the minister not to make any decision until we are given the democratic space and the right to comment on the AELB's reply. This is a fair and just ask by a citizens group".
31 May 2012 – 'Lynas Busters' from JB begin cycling to Kuantan
A group of 15 cyclists, calling themselves 'Lynas Busters' left JB for Kuantan. The three-day physically challenging journey was under taken by cycling enthusiasts from Johor Yellow Flame, the Millipede Bikers Team and the Footprint Bicycle Team in support of the anti-Lynas cause.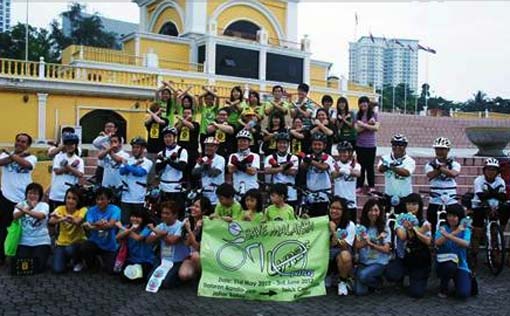 6 June 2012 – Lynas PSC wants public consultations to be a must
It was proposed that the government insists on public consultations prior to launching high-impact projects, especially ones that involve public safety. The proposal was made by the parliamentary select committee (PSC) on the safety of the Lynas Advanced Materials Plant (Lamp).
The reason PSC said was to ensure that locals will be equipped with the facts and information on the project, and to avoid political manipulations.
15 June 2012 – Mosti rejects appeal against TOL for Lynas
An appeal made by SMSL deputy chairperson Ismail Abu Bakar, Tan Ah Meng and Abujavalli V Raman, to overturn the temporary operating licence (TOL) issued by the Atomic Energy Licensing Board's in January to Lynas for Lamp in Gebeng, Kuantan was unsuccessful.
However, two new requirements were added into the temporary operating licence, which Lynas has to fulfil before it starts operations.
17 June 2012 – 500 hold pro-Lynas rally in Kuantan
About 500 members of the Pahang federation of non-governmental organizations in support of the national agenda (Daun) staged a peaceful gathering here to express their support for the government-backed Lynas project.
Operations coordinator Zulfadzli Shamsudin said the 43 NGOs that formed Daun called on the project to be allowed to proceed as it would boost the state's economy and provide employment opportunities for the local community.
18 June 2012 – Lynas PSC report tabled in Dewan Rakyat
The report from the parliamentary select committee (PSC) formed on 20 March on the Lynas Advanced Materials Plant (Lamp) was tabled in the Dewan Rakyat well ahead of its three-month deadline.
Three seats on the committee offered to opposition parliamentarians were not taken up as the Opposition insisted that it was a "waste of time" since the government had refused to issue a stop-work order on the plant until the PSC completed its inquiry.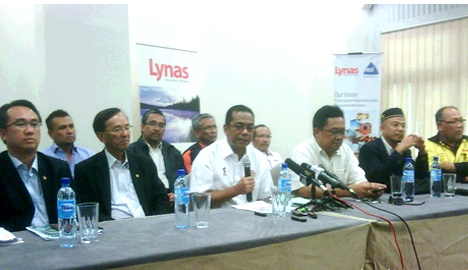 19 June 2012 – Report: Give Lynas TOL, plant
As expected the parliamentary select committee on Lamp recommended that it be issued with a temporary operating licence (TOL). "The committee notes that Lamp is a chemical factory based on the Ministry of International Trade and Industry approval, which classifies its products as rare earth oxides and carbonates.
"Meanwhile, the Department of Occupational Safety and Health categorises it as a manufacturing factory while the Department of Environment categorises it as a chemical factory based on the Environmental Quality Act 1974," the report states.
"The committee is also satisfied that the Lamp project has fulfilled the standard and legal requirements in Malaysia, which are matched by international standards and practices," the report also states.
19 June 2012  – Anti-Lynas group demands right to address Parliament
A group of 100 people were at the Parliament entrance demanding the right to speak in the Dewan Rakyat.
Save Malaysia Stop Lynas (SMSL) group chief Tan Bun Teet said this was necessary because the House could provide immunity for them to speak out against Lynas."If we speak without immunity, we will affect our case as Lynas has filed a defamation suit against us," Tan said.
19 June 2012 – Lynas out to 'gag' free speech
Several NGOs of Australia expressed their unhappiness with Lynas Corporation Ltd's injunction application against the Save Malaysia Stop Lynas (SMSL) coalition which they consider an attempt to gag freedom of speech in Malaysia.
Lynas filed a defamation suit against SMSL, seeking general damages and aggravated damages, as well as an injunction restraining the group from further publishing defamatory articles on Lynas. Lynas does not have the "social licence" to operate in Malaysia if it does not adequately address the concerns of the community and adhere to the "precautionary principle and free, prior and informed consent", said Jim Green of FOE-Australia.
19 June 2012 – Gov't justifies tax break for Lynas plant
In his explanation on why the government has given Lynas Advanced Materials Plant (Lamp) a 12-year tax-free period, International Trade and Industry Minister Mustapa Mohamed said Lamp is a strategic project that has the potential to attract new foreign investments.
"Tax exemption incentives is one of the mechanisms to attract investment into the country as defined under the Investment Promotion Act 1986," he said.
22 June 2012 – No suspicions about safety of Lynas plant, says Najib
Following the release of the parliamentary select committee (PSC) on the RM700 million Lynas plant in Gebeng, Prime Minister Najib Abdul Razak said that there were no suspicions about the safety of the plant.
He reiterated that the people's safety was paramount. "We give priority to the safety of the people but our considerations must be based on scientific facts and not questions of mere worry or imaginary fear or assumptions that are not rooted in scientific facts," he said.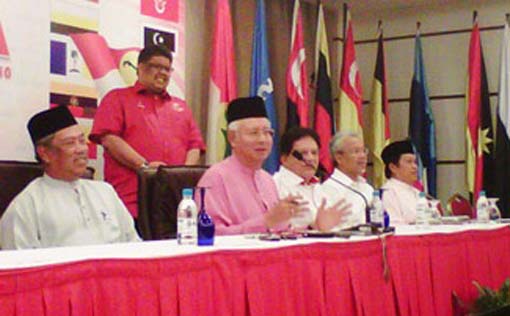 23 June 2012 – 300 kick-start anti-Lynas Occupy Balok-Gebeng rally
The much anticipated rally began with the planting of black banners with wordings which read among others, ""13th GE, we bury BN, bury Lynas", "Lynas get out now", "No Lynas on Malaysian soil".
Wong Tack the chairperson of Himpunan Hijau led the cry "Stop Lynas; Lynas Get out" before planting the banners on the seafront. The organisers also placed about 15 coffins under a gigantic banner of Lynas, to be torched at the "Flame of Anger Rising- Burn Lynas into Ashes" session.
The people were also urged to exercise their electoral right to "put the last nail into the Lynas coffin".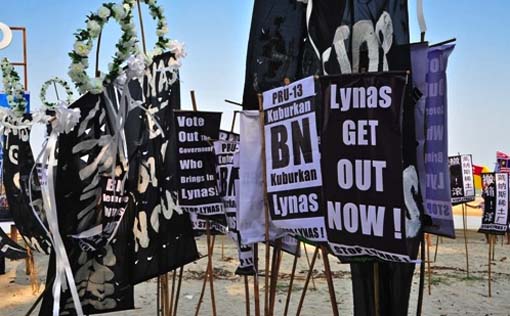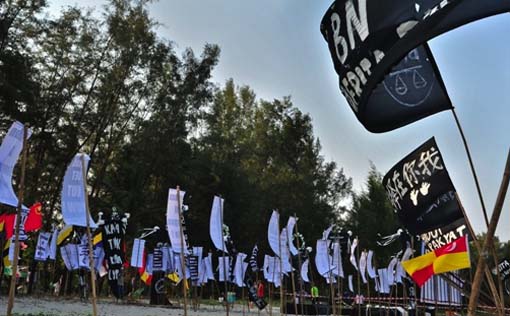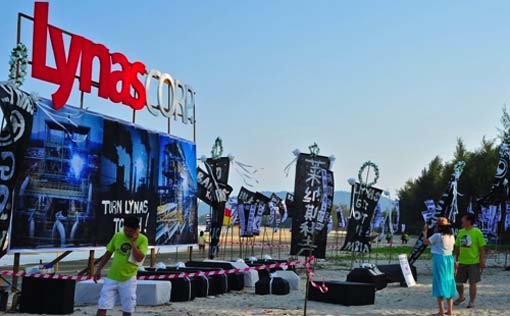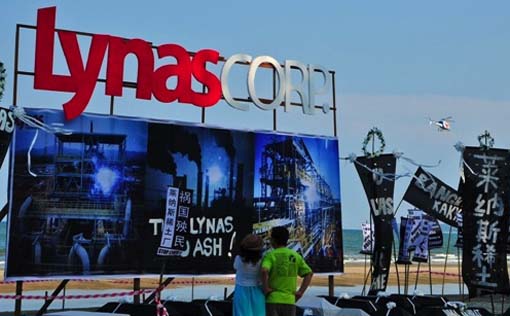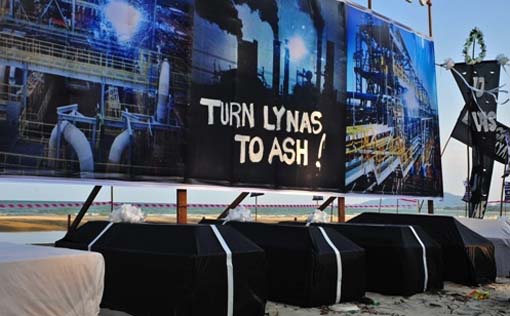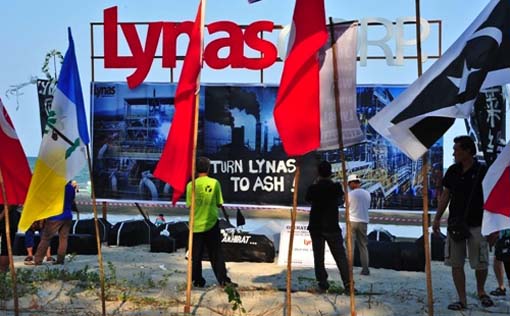 24 June 2012 – Protesters slip past cops, hold sit-in at Gebeng
In continuing with the Occupy Balok-Gebeng rally, protestors managed to get past police roadblocks to converge at the entrance of the Gebeng Industrial Zone to protest against the Lynas rare earth refinery.
Several speakers spoke from a makeshift stage from the back of a lorry including Himpunan Hijau chairperson Wong Tack, Bersih co-chairman A Samad Said, Mohamad Sabu, Pahang PAS commissioner Tuan Ibrahim Tuan Man and Triang assemblyperson Leong Ngah Ngah before they peacefully dispersed.
26 June 2012 – Activists plan 'blockades' to stop Lynas ore
Anti-Lynas activists are determined to stop rare earths from Lynas Australia coming into Malaysia.
"We will set up physical blockades, as we will never allow the shipments to reach Malaysian shores," Himpunan Hijau chairperson Wong Tack said when contacted. "Our contacts at the (Kuantan) port inform us that (Lynas) has no licence yet to import the ores, but we will wait and monitor to ensure the authorities don't lie to the concerned citizens," he said.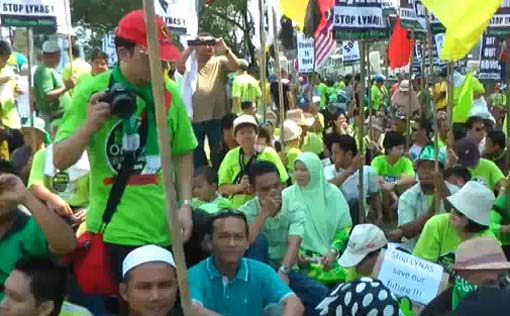 The movement, according to Wong plans to gather "tens of thousands" of Malaysians from across the nation to stop the ores and to "send the shipment… back to Australia. We already have the backing from political and civil society leaders that they will stand with us on the front lines of the blockade," he said.
Previous articles:
Lynas: In layman's terms (Part 1)
Lynas: A diabolical struggle (Part 2)
Lynas: The swinging pendulum (Part 3)
*****************************************************************************************
This article is a four-part series: This is the final article.
Pictures and videos taken from Malaysiakini and CJMY archives and one video from Stop Malaysia Save Lynas.