Kluang Tzu Chi Foundation launched recycling educational centre
The Kluang branch of the Tzu Chi Foundation Malaysia launched its Recycling Educational Centre which was officiated by Youth and Sports Deputy Minister, Gan Ping Sieu, here, recently.
The event was jointly organised by the Kluang Tzu Chi Foundation and the Kluang local council.
The centre shall play a dual roles of educating the public on the importance of recyling and at the same time acts as a recycling centre for the local community.
Environmental protection is one of the missions actively promoted by Tzu Chi Foundation with the hope of educating the public so that more people are aware of the changes of the environment and the need to protect it.
In January 1997, a group of 10 Tzu Chi members decided to start the Tzu Chi's mission in Kluang.
It started off initially with charity and environmental protection activities operating from a single shoplot till what it is today.
The  Tzu Chi Foundation, Kluang branch success story is a testimony of its members commitment and hard work over the last five years.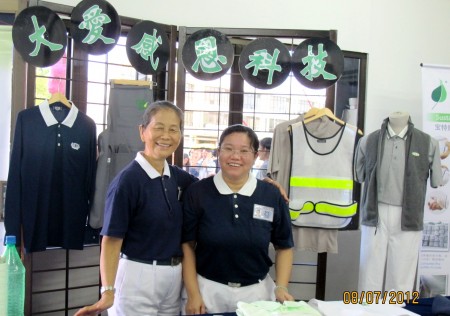 T-shirts made from recycled materials