Lee Yvonne's quest to win Miss World 2012 pageant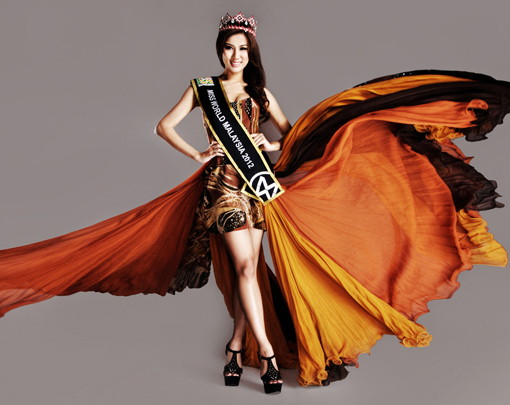 Newly crowned Miss World Malaysia 2012 Lee Yvonne left for Miss World Finals last night July 17, to Mongolia to represent Malaysia at the 62nd Miss World Finals 2012 where it will be staged on Aug 18 at the Dongsheng Fitness Centre Stadium in Ordos, Inner Mongolia.
Traveling alone, she arrived at Dongsheng Airport today to begin her month-long Miss World Tour where she will travel, as part of their itinerary, to Ordos, Hong Kong and Shanghai together with contestants from participating countries all over the world.
Citizen Journalists Malaysia (CJMY) managed to talk to Lee Yvonne, 23, over a cuppa to know more about her and her preparations for the Miss World 2012 Finals, a day before her departure.
"I am happy to be going there to represent Malaysia and I will do my best to bring honour and pride to the country by taking the crown home and I really hope Malaysia can win the title," said Lee Yvonne who added, "I need the support of all Malaysians."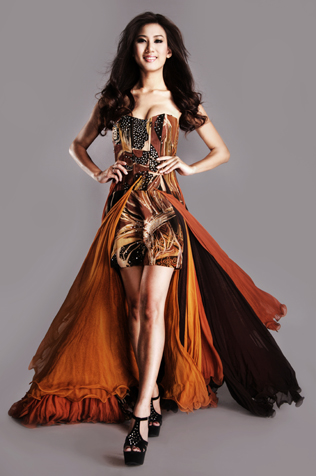 For this year's Miss World Finals, there is a new contest for the Miss World Multimedia award and the top contestant in this segment will win a place in the semi-finals. Every "Like" registered on this link will amount to a point scored by Lee Yvonne. The number of 'Like' on the FB page will help Yvonne to earn fast track points on the Miss World scoreboard.
The last time Malaysia ever came so close to winning the Miss World title was when Lina Teoh, then 22 years old, finished second runner-up at the Miss World 1998 finals.
Throughout her Miss World journey, Yvonne will compete in seven awards categories such as Miss World Beauty with a Purpose, Miss World Beach Beauty, Miss World Fashion – Top Model, Miss World Website – Presentation, Miss World Website – Top Fitness/Sports, Miss World Talent and Miss World Dance of the World.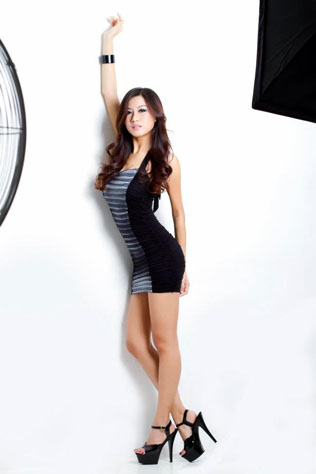 For the Miss World Dance of the World contest, she will perform a fusion Sarawakian dance.
Apart from her beauty, Yvonne will show her talented side at the Miss World Talent showcase where she will perform magical illusions which she learnt from professional magician Andrew Lee.
"I will do my best to promote our country and our multi-cultural society to the contestants who come from different parts of the world," said Yvonne who brought with her stacks of Tourism Malaysia's promotional pamphlets, brochures, booklets and magazines.
For the national costume, Yvonne will be donning the Sarawak 'pua kumbu' costume designed by Von Jolly Couture which is managed and owned by two Sarawakian designers; Raymond Von Jolly and Aaron Von Jolly who are uncle and nephew respectively.
The special costume is themed around 'Singgalang Burung,' based on the concept of "epitome of an Iban warrior princess". The international appeal couture outfit will features the use of Sarawak Pua Kumbu, a hand woven weaving of the Iban of Sarawak and ornaments worn with the dress include precious family silver heirlooms such as silver headdress, silver coins necklace, silver belt with buckle, girdle of silver coins and silver bracelet.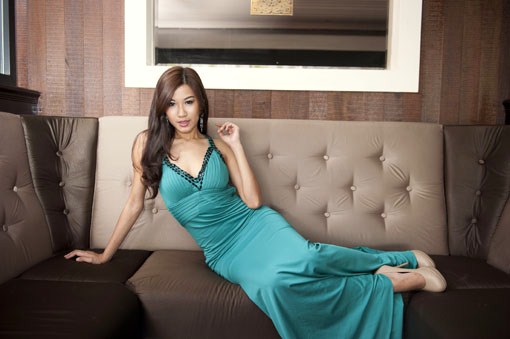 Yvonne will also be wearing another two dresses designed by Von Jolly Couture for her Miss World evening gown parade and for a charity auction event to raise money for disadvantaged children adopted by Miss World.
Yvonne shows her caring and compassionate side by sponsoring a child through World Vision which is charitable group dedicated to working with children, families and communities to overcome poverty and injustice. It has a child sponsorship programme to help needy and poor children.
"One day, I heard over the radio that I could actually sponsor a Mongolian child through World Vision. I thought, a sponsorship costing RM50 a month is not that much and is affordable so I sponsored this six-year old child named Enkbold Bolormaa in January this year. I just did it because I felt like helping someone in need to bring joy, cheer and happiness into his or her lives."
"Enkbold writes me letters sometimes to tell about his progress and so far he has written me two letters telling about his good health and that he is starting school soon. He also drew pictures of cute little stickmen. I feel great because I have become a part of his life. I feel happy to be able to contribute to his well-being as his mother earns only US$16 (RM50) to US$28.5 (RM90) a month which is barely enough for daily expenses.
The sponsorship forges bonding between the two vastly different cultures of Mongolia and Malaysia and gives Yvonne an avenue to get to know and make new friend with another person and this is reflective of the pageant's theme of Beauty with a Purpose.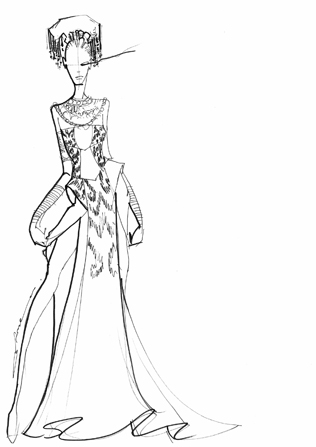 "I have always been an independent person and a go-getter. I started ironing my own school uniform when I was 8 years old and helped my mum around with house chore. I was not born with a silver spoon in my mouth and I started supporting my own studies and my family when I was in college by taking on freelance jobs. I have worked really hard to get to where I am today."
Yvonne is also a dog lover and she own a Shih Tzu at home as an indoor family member.
"I love dogs because they are so sweet and loving. My mum and I always keep our leftovers or go to the restaurants to buy food for the stray dogs in our neighborhood. I can't stand to see dogs mistreated, depressed or living in poor condition."
On her future plans after the Miss World finals, Yvonne whose ambition is to be a TV host and an actress said she would devote herself to charity work.
"I would love to organize events, be it fashion, arts or music festival, to raise funds for Miss World Malaysia charitable partners. I am an adventurous person and I love to try new things or meet new people. One of the things in my "To do" list is to visit the underprivileged community in third world countries.
"I started an online fashion blog shop business in 2009 as a side income and to fulfill my passion for fashion so I plan to expand it further by focusing on its promotion and marketing."
We are definitely proud of our girl Lee Yvonne. Let us all hope she will dazzle and mesmerise the world with her beauty, performances and talent in the Miss World 2012 Finals. Show them what we got to win the coveted Miss World 2012 title and crown!