Early Ramadhan cheers for 22 mosques and surau
In a simple cheque presentation ceremony  held at the Dewan Muslimat Masjid Darul Ehsan, Jalan SS15/2E, Subang Jaya on the first morning of Ramadhan,  22 mosques and suraus  received Ramadhan grants  from the Selangor State Government ranging from RM2000 for mosques to RM1000 for suraus.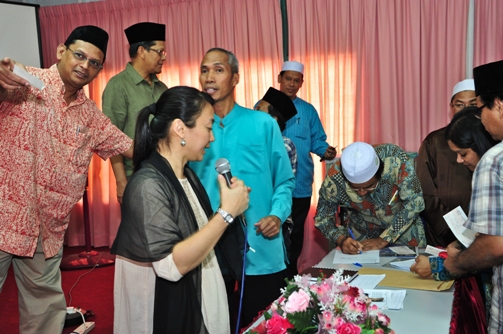 On hand to present the cheques on behalf of the Selangor State government was Adun for Subang Jaya, Hannah Yeoh.
Hannah said that the Selangor State government has been giving out this grant for the past 4 years and hopes that this contribution will help the mosques and suraus in their Ramadhan activities and reducing some costs for them.
Compared with other constituencies which have far more mosques and suraus, the 22 mosques and suraus in Subang Jaya are receiving a slightly higher grant.