Residents want errant developer to stop work
Representatives from the Subang Jaya Residents Association, Wangsa Baiduri Neighbourhood Association, Jawatankuasa Penduduk Zone 1, Summer and Spring Villa, Boulevard and Laman Baiduri held a press conference at the office of Subang Jaya Adun Hannah Yeoh on July 22, 2012 to protest against the developer of the Dorsett Place Waterfront.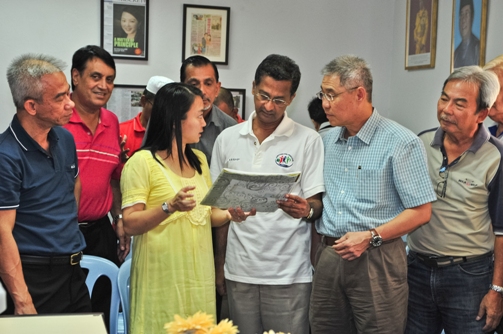 Before 2008, the developer, Mayland Valiant Sdn Bhd had applied for the building of service apartments which was  rejected by Majlis Perbandaran Subang Jaya (MPSJP).  In 2009, their application for permit to build service apartments and commercial properties were again rejected.  Thereafter, the developer changed their plans to  expansion of the hotel to meet 5 star status and this was approved by MPSJ on the condition that they allocate parking bays in the ratio of 1 bay to 3 suites and a new access road.  This development approval was granted in 2010 for a total of 1,986 hotel suites called Dorsett Place Waterfront Hotel Suites.
A few months ago the developer started to put the suites up for sale through advertisements and a giant billboard in front of the project.  Upon complaints from the residents of Subang Jaya, the MPSJ wrote to to the Housing and Local Ministry Ministry requesting that the permit granted to the developer to sell the suites be suspended pending a thorough review of the whole project.  Somehow, the developer had managed to obtain permission from the Housing Ministry (a Federal  Ministry) to sell the suite. Todate, the Housing Ministry has not given a reply to MPSJ and it is understood that some 1.200 units of suites have already been sold.