CFM requests Christians to be deliberate in voting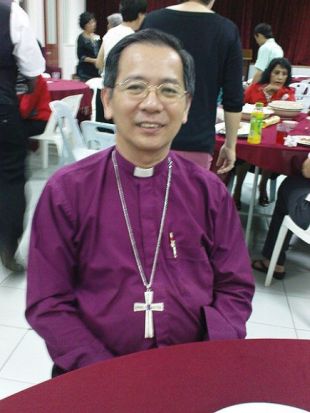 In view of the coming election, the Christian Federation of Malaysia (CFM) called on Christians to consider eight priorities before polling day.
This came in a letter, signed by CFM chairperson and the executive committee of Bishop Ng Moon Hing. The letter was distributed to all Churches in Malaysia on July 18, 2012, with the heading 'Vote Wisely, Vote for a Better Malaysia' (in four languages).
The Churches were told to distribute the letter.
The CFM is an ecumenical umbrella body in Malaysia that comprises of the Council of Churches of Malaysia (mainline Protestants and Oriental Orthodox), National Evangelical Christian Fellowship (Evangelicals) and the Catholic Bishops' Conference of Malaysia (Roman Catholic).
It was formed in 1985 and it brings together the major expressions of Christianity in Malayisa in a broad-based ecumenical body, giving a unified voice of all Christians in dealing with the government, other religions and secular bodies.
Top-most on its priorities is to look out for a nation guided by the ethics of respect for human dignity. CFM said this is where all citizens should be treated equally and their rights respected in accordance with the provisions as guaranteed under the Federal Constitution
The second priority priorities seek to inform Christians that the nation should reject extremism and the third priority to reject extremism and corruption.
It also promotes a nation that works towards the fair and equitable distribution of wealth to ensure the well-being of all citizens, regardless of their ethnicity or creed is the fourth priority.
The environment is not forgotten too when CFM focuses on the environment in its fifth priority. The environment should be prioritise over self-seeking capitalism, it says, and political leaders should weigh all decisions with ecological interest and sustainability in the name of development.
The rest of the priorities are:
* A nation where language and education are de-linked from political expedience.
* A nation where elitism and inequality is not rampant and people are recognised and respected as human beings and are not discriminated against due to social position, educational attainment, political beliefs, gender, race or religion.
* A nation where religious freedom to profess, practice and propagate one's religion is allowed to flourish without undue curtailment from the law, restrictions or even prohibition.
The full letter is available on the NECF website.