1M Paper Airplane Contest challenge!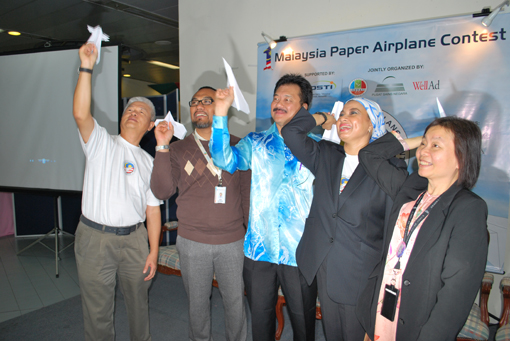 Have you ever make and flown a paper airplane to see how high and far your plane will travel as a child? If you did, well now you have a chance to re-live that childhood experience.
Although it is considered child's play, if one were to look closer, to fold a paper airplane and have it fly requires skill, patience, planning and perseverance.
Now a paper airplane flying contest will be held to test the creative and innovative spirit of contestants who make their own airplane using a single A4 paper.
This was announced at the launch of 1Malaysia Paper Airplane Contest (1MPAC) at the National Science Centre in Kuala Lumpur on July 26, 2012 and followed by the sharing of "Berbuka puasa" with all those present including members of the media.
"This Paper Airplane Contest is definitely not child's play as one need to be very creative and innovative in playing paper airplanes," said under-secretary Chong Poon Chai, who represented secretary general of the Ministry of Science, Technology and Innovation (MOSTI) Madinah Mohamad.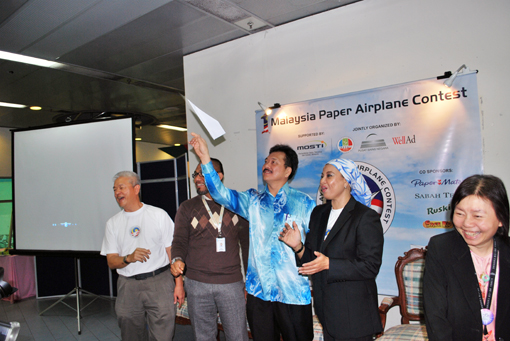 "MOSTI is always on the lookout for inventive events that can bring out creative and innovative thinking in our youths and 1MPAC will attest their skill and creativity coupled with the joy of accomplishment."
Also present at the launch were Malaysian Foundation for Innovation acting CEO Muhammad Aziph bin Dato' Mustapha, National Science Centre deputy director Phyllis Lam, WellAd Communications executive director Sabariah Daud and operations director David Oh.
The contest is jointly organised by Malaysian Foundation for Innovation, National Science Centre and WellAd Communications and supported by MOSTI. It will take off from Pusat Sains Negara on September 15, 2012.
1MPAC is designed to test the innovative spirit of the contestants who have to come up with their own airplane as creative as possible.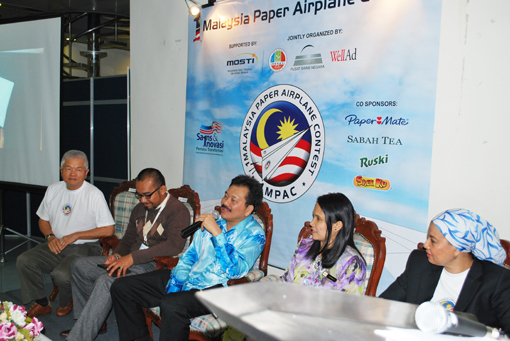 "MOSTI echoes Prime Minister Najib Razak's hope to make science a culture of the people and boost innovation in the whole community. This will then lead to generating more knowledge that will spill into wealth eventually," added Chong.
The biggest challenge of the contest is to keep the paper airplane, designed and folded from a single A4 80 grams sheet of paper, airborne as long as possible and this is where the contestant's creativity is of great importance; a good fold is just as important as a good design and a good throw.
The plane that can fly the longest in the air from launching till touching the floor will be declared the winner at the finals and will walk away with the grand prize. The competition offers up to RM 20,000 worth of attractive prizes for the winners.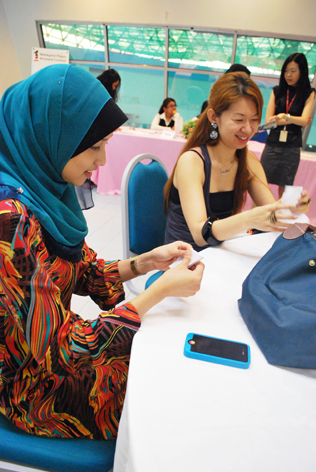 The current world record for the longest flight time is 27.9 seconds, which was achieved by Takuo Toda at the 2009 Worldwide Paper Airplane Contest in Salzburg, Austria.
It is hoped that 1MPAC can produce a worthy Malaysian representative to compete in the Red Bull Paper Wings World Finals, the world championship paper airplane contest, and beat the record!
This contest is divided into three categories as follows:
Group A: Primary Schools Students (7 – 12 years old)
Group B: Secondary Schools    Students (13- 17 years old)
Group C: Open Category – General Public
The contest entry fee is RM3 per entry for primary/secondary students and RM5 per entry for adults. Closing date is September 3, 2012.
Those interested can download the contest form and get more details about 1MPAC.
For more updates, follow 1MPAC fan page.