TGV Cinemas host first 'buka puasa' feast with media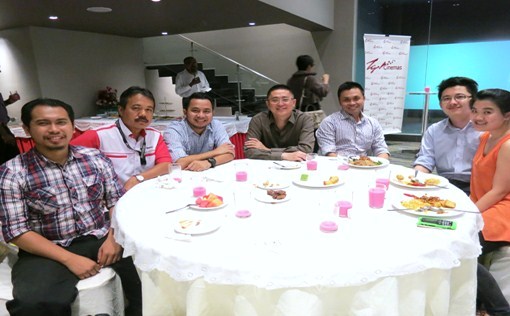 TGV Cinemas hosted their first "berbuka puasa" – breaking fast – dinner with the media during the Muslim month of Ramadan on July 31, 2012 at TGV Sunway Pyramid, Petaling Jaya.
Over 50 multi-racial members of the media attended the event held in a distinctive cinema ambiance.
"The Ramadan month is a great opportunity for us to extend our special thanks to all our media friends for their unwavering support and a great time to celebrate the festivities of breaking fast together as fellow Malaysians," said TGV Cinemas CEO Kenny Wong in his welcome speech.
A 'baca doa buka puasa' soon followed before the guests who were joined by TGV Cinemas' management team feasted themselves on a host of sumptuous dishes including the crunchy TGV's premium "Popcorn Royale".
During the event, TGV Cinemas announced its extended partnership with IMAX Corporation which will see the country's leading film exhibitor open more IMAX theatres in other premier locations in the country. It will add seven more IMAX theatre systems to the current one, bringing the total to eight.
"Our first digital IMAX cinema here at Sunway Pyramid which was launched in December last year has been a tremendous success. That IMAX cinema was a pilot test and the overwhelming response received during the first six months was extraordinary so we decided to expand IMAX coverage beyond our original plan," Kenny said.
"I am glad to say that the second IMAX cinema will be launched in the upcoming new TGV One Utama re-launch in October this year."
The IMAX digital theatre system with its powerful state-of-the-art visual and audio capabilities offers movie-goers the ultimate cinema 3D experience.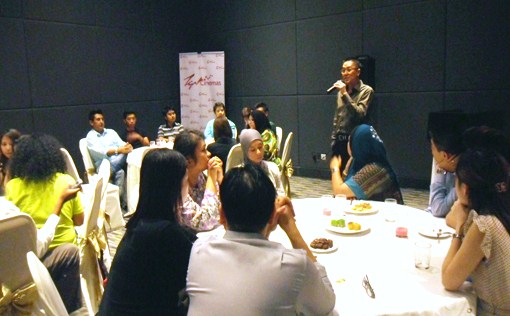 Kenny said that existing cinemas will be refurbished and converted to IMAX cinemas. The first of such 'retrofit' will happen at TGV Tebrau in Johor Bahru (opening in December 2012) and other urban centres, one of which will be in Penang (by December 2013).
"We are also thinking of going to East Malaysia so we hope to have IMAX cinemas spread out all over key strategic locations in the country so that more Malaysians can enjoy what we call the most immersible movie experience.
"It's difficult for me to describe the IMAX experience. Instead of watching the movie, you will feel as if you are being part of the movie, like you are immersed in the movie," he said.
Kenny also announced that TGV One Utama will see a whole new era and a distinctive benchmark in the local cinema industry. It will open its doors to the public by September this year and it will be the flagship cinema in Malaysia.
"Beyond IMAX, TGV Club and Beanieplex, TGV One Utama will have a new concept for patrons called TGV Suite that arguably will offer the highest top notch first-class cinema experience, with fantastic seats where you can adjust recline position and leg rest, concierge service that will serves you food right where you are seating as well as exclusive waiting and dining lounge areas."
TGV Sunway Pyramid has two 66-seat cinema halls dedicated to TGV club for cinema goers who want to pay a bit more for extra comfort and privacy. It has a rest area where, patrons could chill out, listen to music, surf the net and order some food before the movie starts.
While the TGV club has wider seats, more leg room and more comfortable seating position, the Beanieplex hall has 48 huge gigantic beanbags on the floor for a more cozy and relaxing movie experience.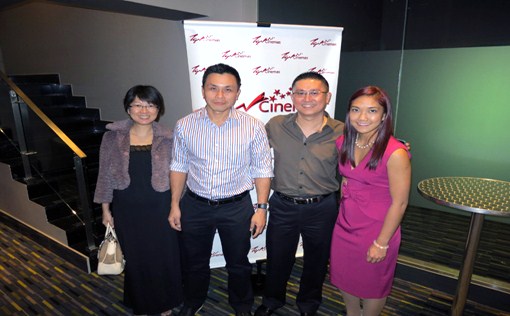 TGV Cinemas currently has 19 cinemas in Malaysia. It has already opened three cinemas this year at Rawang, Bukit Indah in Johor and Station 18 in Ipoh and will be opening another three cinemas soon before the year ends at Setia Walk, Puchong , One Utama (re-opening) and Cheras Sentral.
On the performance of the local cinema industry, Kenny said: "We are opening six cinemas this year. We have never open more than two cinemas a year and next year we are not going to stop as well because we are looking at opening another four to six cinemas.
"We are not the only one growing. The industry is growing. As a matter of fact, in Malaysia we do not have enough cinemas. We have about 29 million population and only about 700 screens in total. In contrast, Australia with a population of 25-26 million has 2,000 screens.
"So there is a lot of avenue for growth here, not only for ourselves but also our friendly competitors like MBO, GSC, BigC, Lotus Five Stars. We are all building new cinemas," added Kenny who estimated the number of screens to increase to 1,000 in three to four years time.
"The good news is we are expanding and we are taking this new cinema-going experience, like comfortable seats, very good quality audio visual system, popcorn and coke to those places which currently do not have. Malaysians from all walks of life should be entitled to enjoy similar quality."