Wakaf Bharu Adun's open house draw huge visitors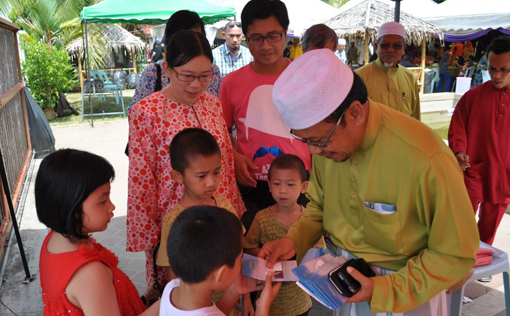 The hot weather did not deter the people from visiting Wakaf baru state assembly person's Che Abdullah Mat Nawi's residence on Tuesday.
More than five thousand people turned out for the occasion.
People from all walks of life including foreigners visited the exco's resident on the third day of Raya to wish him and to enjoy the celebration.
Those who came say it gave them the opportunity to gather with their friends and at the same time to meet their local leaders.
Che Abdullah Mat Nawi said he was happy with the gathering as it gave him the opportunity to meet up with the people of Wakaf Bharu.
He also added that the turnout doubled compared to the previous year.
Among the special guests who turned up include the Iman from Mesir and the Timbalan Menteri Besar Kelantan Datuk Ahmad Yaakob.
The menu for the day include "gulai kawah", "nasi dagang", "satay", barbeque mutton and dear meat.
During the occasion, he also delivered the 'Skim Az-Ziwaaj' to the younger group who intent to get married soon.
Children and the older ones were given "angpow" packets.
Open house celebrations has become a culture in our Malaysia especially during festival such as Hari Raya, Chinese New Year, Deepavali and Christmas.