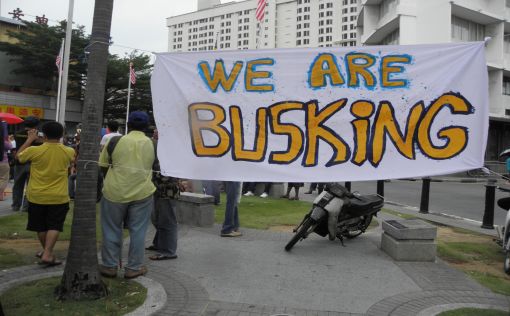 Young talented musicians and artists had a chance to showcase their talents on September 8 at the busking event, organised in conjunction of the Penang Local Democracy Festival.
The event was held at an open space in the centre of the busy Penang Road and Chulia Street.
Busking provides a fusion between arts and politics.
The purpose of busking is to spread the message of freedom, democracy, people's struggles and belief, all through music and performing sketches. It is a performances for the people, by the people.
Busking on 8 Sept in Penang featured various musicians and artists in group and individuals like  Bloody Records, GAND, Rizal Hamdan, Ray Cheong and Ksatriya, all from Penang. From Kuala Lumpur, there were Orkes Rakyat Tertindas,  Sheena Baharudin, Adel and Blu, a Brazilian who resides in KL.
About 100 or so people braved the drizzle to catch this event, an event that does not happen so often in Penang.
Donations were collected… but not in monetary terms . It was 'donations for ideas'. The audience were encouraged to write down on a piece of paper what ideas they think they can contribute to building up of a democratic country.
State exco for local government, Chow Kon Yeow, present briefly and he also contributed his idea.
Under the state government, he was the one responsible to advise and support of Penang Local Democracy Festival.
The first person to perform was Rizal Hamdan, who sang 3 songs. His last song 'Imagine' by John Lennon went well with the audience as some sing along with him.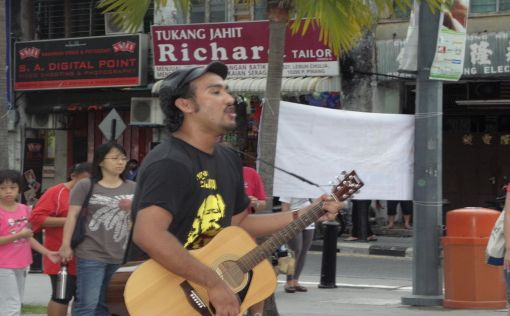 Orkest Rakyat Tertindas presented 3 energetic songs; one was about  the people's struggle for democracy and another about land grab.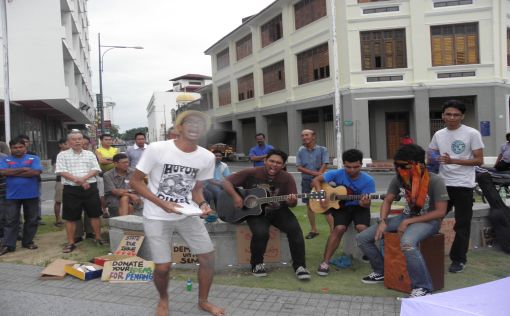 Ksatriya, who is a poet and songwriter rapped on 'Orang Merdeka' giving the message that if we are truly merdeka, we must not fear to voice out opinion. The second time around, he rapped about 'living the revolution'.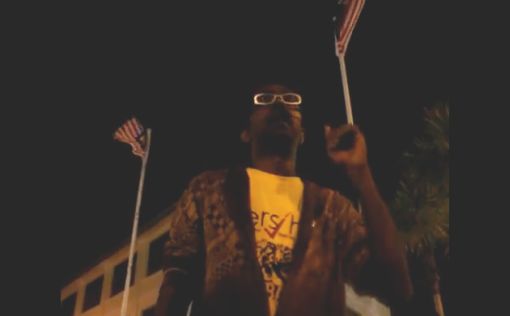 With strong voice and meaningful expression, Sheena Baharuddin delivered a poem that get the audience to ponder on. Her poem was in a mixture of English and Bahasa, where she talked about how can she sing Negara-ku with pride and from the heart when she see so much hypocrisy, racism and injustice going on.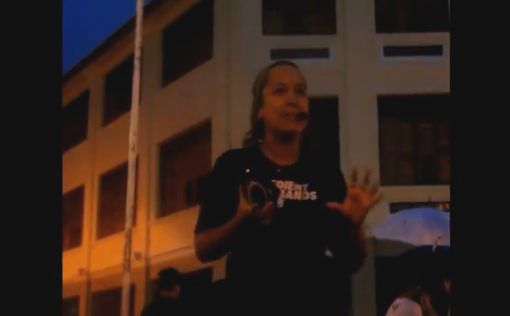 The highlight of the evening was a silent mime-sort of performance by Blu, a Brazilian and Adel from KL.  They caught everyone's attention when both wearing masks, Adel was lead by Blu, with a red string, from the other side of the road to the performance spot. Their performance was known as 'Desire Line N°3'.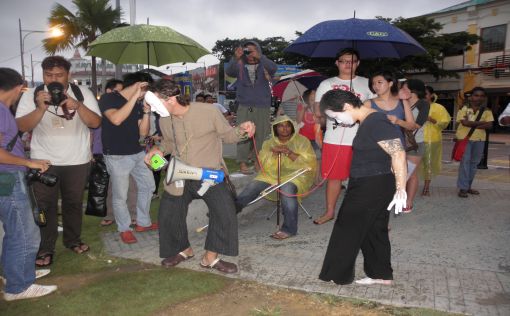 Desire Lines is a serious of performance for sound and movement, using mask, and possible abstract narratives to be captured by the audience themselves. Blu said that there is no direct message from their performance as they leave it to the audience themselves to interpret the message. The performance can be watched here
Fittingly, the busking event came to a lively end with Drum Circle, where everyone were urged to join in. Not only were there conventional musical instruments like hand-drum, tambourine, shakers but 'make-shit creative' musical instrument were used like plastic containers mineral water bottles. The people made music and danced to their hearts' content before calling it a day.
NOTE:  Videos of all the performances and some photos can be found on its Facebook page.